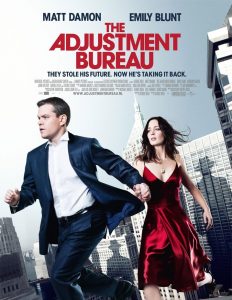 What if … the most important elements and events of our existence were all part of an unfathomable plan, orchestrated by hidden agents of a leader of unknowable power? That's actually not to great a stretch for Christians. The Adjustment Bureau, though, puts a distinctly secular and bureaucratic spin on this "adaptation" of the Philip K. Dick short story, "The Adjustment Team." Eve and I head back to the DVD rack this month and take a look at the 2011 movie starring Matt Damon and Emily Blunt.
Plot Summary
David Norris is a man with a political star rising so fast that it might as well be a rocket. While running for a New York seat in the U.S. Senate, his momentum is stymied by a past indiscretion. As he is preparing to concede the election, he has a "chance" encounter with Elise Sellas, an unpredictable and fun loving yet very talented dancer. They fall for each other almost instantly but have to part ways before they can arrange to meet again. Later, they meet again – by "chance" – and make arrangements to meet, but…
Thanks to "chance" accidents, David ends up stumbling into an active and supernatural adjustment taking place at the offices of his new venture capital job. After a brief interrogation by the lead agent,  David is told that, under no circumstances, is he permitted to have any kind of relationship with Elise; they even go so far as to burn the card onto which she wrote her phone number.
Thus begins David's education in the activities of the Chairman and his Adjustment Bureau. Their job is to make changes to the natural, clockwork like events of existence, in order to ensure that everything happens according to the Plan (with a capital "P"). Sometimes those changes are big and sometimes they are small, but they are all supposed to be in humanity's best interest. David can't accept, though, that humanity's best interests require that he and Elise are unable to build a life together. The audience comes along for the ride while he resists both the Plan and its agents.
Initial Thoughts
The Adjustment Bureau is directed by George Nolfi with music by Thomas Newman. The music is good and fits the content well, but it's nothing particularly outstanding. The movie is rated PG-13 and doesn't have much objectionable language or content. There is some language and one ambiguous sex scene. For a full breakdown of the more family-focused elements in the movie, be sure to check out PluggedIn's review.
Based on the Philip K. Dick short story, "The Adjustment Team," it joins a long line of stories that provided a great springboard for Hollywood blockbusters with big actor names. PDK has a twisted way of making you think about things that you wouldn't normally dwell on, like what makes you human in Do Androids Dream of Electric Sheep (Bladerunner), can you trust your memories in "We Can Remember It for You Wholesale" (Total Recall), and what would it be like to see the future in "The Golden Man" (Next). The Tom Cruise movie, The Minority Report is also based on a PKD story by the same name and dives into similar questions, only on the guilt or innocence of someone who hasn't yet done something wrong.
The Adjustment Bureau has an overarching romantic element, but also incorporates a suspense-building science fiction theme, so it walks the line between high-concept science fiction and romance (a.k.a. "chick-flick"). With the powerful acting chops of Mat Damon and Emily Blunt, they pull off the widened audience demographic pretty well. While Damon's character, David Norris, was a politician and clearly a Democrat to those paying attention and looking for that, there isn't anything really in his actions or stated platform that makes him stand out terribly that way. He is able to maintain a bit more of a sympathetic vibe this way.
This movie is one of a long line of movies that preaches the "follow your heart" theme that says, "if you want it badly enough, it must be right, regardless of the opposition." This is a very humanist theme and easily the most pervasive (and dangerous) theme to come out of Hollywood.  We really need to be able to spot the influence of humanism in each and every level and intensity, or we might start to believe it is true.
Follow the Plan
In order for David to be able to have a life with Elise, he must oppose the Plan that is actively being protected by the agents of the Adjustment Bureau. This Plan is the one established by the Chairman and is dedicated to ensure the best continued existence for humanity. Agent Thompson (played by Terence Stamp) tells us that the Chairman has tried several times to give humanity control over its own destiny, yet every time, we've brought ourselves to the brink of extinction. Humanity just cannot be trusted with the big decisions. David just has to trust that the impact Elise would have on his life would be so far ranging as to make the world worse off. David buys into this a few times, but eventually decides that his desire to have a relationship with Elise is more important than the fate of humanity.
The major problem with the presentation of the army of agents and their devotion to the Plan is that the Chairman in The Adjustment Bureau does not appear to be omniscient. There are several places where events happen purely by chance. More than once, the agents are shown scrambling to overcome some barrier to the Plan that has popped up unexpectedly. The movie begs the discussion of the concepts of free-will versus predestination, but it fails to provide enough of the foundation of similarity between the Chairman and his Plan and that of God and His will. As Christians, we are told that God IS all-knowing and all-powerful. Without those characteristics of God, the entire idea being presented is meaningless.
For I know the plans I have for you, declares the Lord, plans for welfare and not for evil, to give you a future and a hope. (Jeremiah 29:11)
In this verse, God is reassuring Israel through the prophet Jeremiah that, even though he is punishing them, he is also honoring his covenant and continuing to claim them as His people. This assurance is one upon which we can trust an omnipotent and omniscient God. Unlike the Chairman, God actually does see and know all, and when he intercedes for us, we can know with certainty that it is in our best interests.
For we are his workmanship, created in Christ Jesus for good works, which God prepared beforehand, that we should walk in them. (Ephesians 2:10)
Chance vs. Plan
The story provides multiple examples of when the Plan has changed. If the plan changes to adjust for elements of pure chance, than the Chairman has to be reactionary in nature. We humans often wish each other luck or believe in coincidence, but to our sovereign God, neither of those have any traction. Nothing happens outside of God's control and will.
The lot is cast into the lap, but its every decision is from the Lord. (Proverbs 16:33)
Bureaucracy
The most humanist thing about The Adjustment Bureau is the replacement (though necessary for the story) of the true sovereign nature of God with the bureaucracy of the Adjustment Bureau. The chairman is an employer, not a king. The agents are ambitious entities seeking advancement within the ranks, not subjects joyfully serving a ruler who has their best interests at heart. This development of bureaucracy was not part of God's desire for his people, but it has always been part of his plan. As far back as the flight out of Egypt, the need for bureaucratic organization was acknowledged.
What you're doing is not good," Moses's father-in-law said to him. "You will certainly wear out both yourself and these people who are with you, because the task is too heavy for you. You can't do it alone. Now listen to me; I will give you some advice, and God be with you. You be the one to represent the people before God and bring their cases to him. Instruct them about the statutes and laws, and teach them the way to live and what they must do. But you should select from all the people able men, God-fearing, trustworthy, and hating dishonest profit. Place them over the people as commanders of thousands, hundreds, fifties, and tens. They should judge the people at all times. Then they can bring you every major case but judge every minor case themselves. In this way you will lighten your load, and they will bear it with you. If you do this, and God so directs you, you will be able to endure, and also all these people will be able to go home satisfied. (Exodus 18:17-23)
We have bureaucracy only because our sinful state requires us to implement some type of plan to organize and implement change. But like all things, the corruption of sin perverts that as well:
If you see oppression of the poor and perversion of justice and righteousness in the province, don't be astonished at the situation, because one official protects another official, and higher officials protect them. (Ecclesiastes 5:8)
Thankfully (and blessedly) our relationship with our Savior does not require a bureaucracy to access—we have direct access to God through prayer and His inspired word.
Love Conquers All
Such a common theme in storytelling, are the ideas of "love conquers all" and "soul mates," both of which are antithetical to reality. We are told that we have the right—no, the responsibility—to resist authority if we are fighting for LOVE. That there is one perfect match for us in our lives, and that this soul mate relationship is worth the most significant and ultimate sacrifices. This concept has pervaded our society to the point that it is corrupting civilization itself. The idea that you must be "in love" to be married, and that the state is one you can fall out of as easily as you fell in. There are no such things as "irreconcilable differences" because that reconciliation is the work of marriage and loving your spouse is a lifelong job and commitment. The idea that you get divorced because you have fallen out of love is contrary to God's expressed will:
When a man and a woman marry, it is not chance or your own wills that join you, but God: "What therefore God has joined together, let not man separate. (Mark 10:9)
Happiness in a relationship is not a function of chance, it is the result of work, devotion, and, most importantly, making God the third person in your marriage:
You make known to me the path of life; in your presence there is fullness of joy; at your right hand are pleasures forevermore. (Psalms 16:11)
A number of years ago, Voddie Baucham did a wonderful series on Love and Marriage at a youth conference and it is really worth watching. He deals specifically with the "falling in love with the 'one'" topic and how it relates to a romanticized Greco-Roman myth. Check out part 1 here: Voddie Baucham – Love and Marriage – Part 1 – In the Beginning. The other parts are, Voddie Baucham – Love and Marriage – Part 2 – True Love, Voddie Baucham – Love and Marriage – Part 3 – The Other Half, and Voddie Baucham – Love and Marriage – Part 4 – The Better Half.
The idea that each person has a "soulmate" that they are meant to be with is definitely not a biblical one:
To the unmarried and the widows I say that it is good for them to remain single, as I am. But if they cannot exercise self-control, they should marry. For it is better to marry than to burn with passion. (1 Corinthians 7:8-9)
Marriage is a metaphor for the relationship of the church with Christ. Our fulfillment is in Christ alone and our love for one another is through God, who is love. Marriage is one of the most important lessons we have to learn in our lives; how to love unconditionally, dedicate your work to another, and depend on one another for all things.
"When Bad Things Happen to Good People"?
At one point, the movie reveals that the untimely deaths of David's father and brother were both orchestrated by agents of the Bureau in order to further the Chairman's plan—specifically, to engineer David to be a ambitious, self-sufficient man. We Christians are as subject to bad things in our lives as every other living being in creation—it is the nature of the fall. But we have specific and unassailable assurance that it is not for nothing:
We know that all things work together for the good of those who love God, who are called according to his purpose. For those he foreknew he also predestined to be conformed to the image of his Son, so that he would be the firstborn among many brothers and sisters. (Romans 8:28-29)
We may never be granted even a glimpse of how the pain and suffering we face in our lives are used for the good of those who love God. We may go to our graves not knowing why someone died too early or died unsaved. In fact, God's infinite wisdom may remain beyond us even in our glorified state! But we have to remember how completely BEYOND us God is:
"For my thoughts are not your thoughts,
and your ways are not my ways."
This is the Lord's declaration.
"For as heaven is higher than earth,
so my ways are higher than your ways,
and my thoughts than your thoughts." (Isaiah 55:8-9)
Without God, we are NOT good people. We are born slaves to sin, and are saved only by the grace of God. In The Adjustment Bureau David's father and brother died to serve the Plan, but his mother was pure chance. How great is it that nothing happens, not a hair falls from our heads, be they saved or unsaved (the heads, not the hairs), that is not part of God's plan. Our goodness is only from God:
If anyone thinks he is religious without controlling his tongue, his religion is useless and he deceives himself. (James 1:26)
There is nothing that we can do that would earn our salvation. God hasn't left us in our filthy, rotten, sinfulness, though, and this is a message that we should be willing to spread!
Please support the podcast!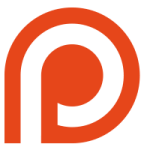 Are You Just Watching? is listener supported. Special thanks to our current patrons: Craig Hardee, Stephen Brown II, and Peter Chapman for their generous support. We can't continue to share critical thinking for the entertained Christian without your financial help, so please head on over to our Patreon page and become one of our supporting patrons!
Share your feedback!
What did you think of The Adjustment Bureau? We would like to know, even if just your reactions to the trailer or the topics we shared in this episode. Or what general critical-thinking and entertainment thoughts or questions do you have? Would you like to suggest a movie or TV show for us to give a Christian movie review with critical thinking?
Please connect with us