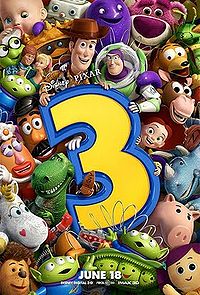 Toy Story 3 continues Pixar's fantastic story-telling after Toy Story and Toy Story 2. Friendship, trust, working together, and unresolved bitterness are strong themes. But the animated short "Night & Day" raises more discussion.
Spoiler-free review
Toy Story 3 was lots of fun and definitely friendly for almost the whole family. It has positively reinforcing themes and believable characters who mostly overcome their struggles.
If you watch Toy Story 3, we really want the exact quote that was in the animated short before the movie. It comes from the tower. If you get that, especially if you can find the source, please send it to feedback@AreYouJustWatching.com or call our listener voicemail line at (903) 231-2221.
The rest of the discussion does contain spoilers. Stop now and come back after you've watched, unless you don't mind spoilers.
Friendship
As with the two previous movies, Toy Story 3 focuses a lot on the relationships between the characters. We see a good friendship between Woody and Buzz, and even a little romance. But their relationship is put over fire a few times.
Two are better than one because they have a good return for their labor. For if either of them falls, the one will lift up his companion. But woe to the one who falls when there is not another to lift him up. (Ecclesiastes 4:9–10)
Bitterness and deserting
Lotso, the evil anarchist in Sunny Side Up day care, has some unresolved bitterness for being left and replaced. Thankfully, our Heavenly Father makes a wonderful promise to us.
… He Himself has said, "I WILL NEVER DESERT YOU, NOR WILL I EVER FORSAKE YOU," (Hebrews 13:5)
Homosexual-tolerance agenda?
I'm trying hard to not read into the movie concepts that weren't there. Not only was Ken (the male Barbie doll, but still a girl's toy) a little more feminine than would seem normal, but most of my thoughts are on the animated short, "Night & Day," before Toy Story 3. It has two male characters who go through a journey in their relationship that could have homosexual undertones. The short ends with a quotation about moving with society and not rejecting things just because they're new or different.
Fear of the unknown.

They are afraid of new ideas.

They are loaded with prejudices, not based upon anything in reality, but based on… if something is new, I reject it immediately because it's frightening to me. What they do instead is just stay with the familiar.

You know, to me, the most beautiful things in all the universe, are the most mysterious.

[Dr. Wayne Dyer]
God is very clear in His Word on the definition of marriage. Jesus Christ quoted from Genesis as literal history when we answered about divorce and remarriage.
And He answered and said, "Have you not read that He who created them from the beginning MADE THEM MALE AND FEMALE, and said, 'FOR THIS REASON A MAN SHALL LEAVE HIS FATHER AND MOTHER AND BE JOINED TO HIS WIFE, AND THE TWO SHALL BECOME ONE FLESH'? So they are no longer two, but one flesh. What therefore God has joined together, let no man separate."(Matthew 19:4–6)
"Night & Day" also portrayed a little bit of lust, which is never a good idea to encourage.
… I [Jesus Christ] say to you that everyone who looks at a woman with lust for her has already committed adultery with her in his heart. (Matthew 5:28)
What did you think?
Have you seen Toy Story 3? What did you think of it? Comment on this post, email feedback@AreYouJustWatching.com (audio feedback welcome), or call (903) 231-2221. You can also follow Are You Just Watching?™, Daniel, and Eve on Twitter. And please join our Facebook Page. And don't forget to leave us some five-star reviews in iTunes!
Are You Just Watching?™ is produced and sponsored by D.Joseph Design. The opening vocal talent is thanks to Mariah. Our theme song is used courtesy of Answers in Genesis, from their exciting vacation Bible school curriculum, Operation Space.