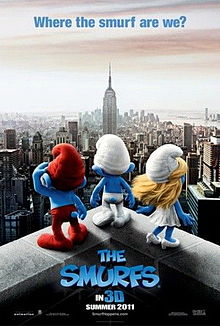 Daniel J. Lewis, Eve Franklin, and Chris Jones share their critical-thinking review of the 2011 movie The Smurfs.
Spoiler-free review
We enjoyed The Smurfs and can recommend it as a clean, family movie and mostly teaching positive values. The story was easy to follow, the characters fun, and the music fitting (albeit easy to get stuck in your head).
If you watch The Smurfs movie, please share your thoughts with us to include in a future episode.
"There is a place that knows no sadness"
This was among the first few sentences we hear at the beginning of The Smurfs. The narrator was speaking of the Smurf's village.
The truth is that there is no place that knows no sadness, except for the eternal home in heaven that Jesus is preparing for us.
And I heard a loud voice from the throne, saying, "Behold, the tabernacle of God is among men, and He will dwell among them, and they shall be His people, and God Himself will be among them, and He will wipe away every tear from their eyes; and there will no longer be any death; there will no longer be any mourning, or crying, or pain; the first things have passed away." (Revelation 21:3–5, NASB)
The Smurf essence gives power
Gargamel was called a "powerful sorcerer," but he could only be powerful when he had extracted the "essence" from Smurfs.
This is somewhat logical since the Smurfs were already magical. Magic power being extractable from others raises several questions. Can it be given at will or only extracted by force? Is every Smurf born with this magic? How much essence can be extracted without killing the Smurf?
Only one daughter, but created by Gargamel?
In contempt for the Smurfs, Gargamel sarcastically says, "Ninety-nine sons and one daughter—nothing weird about that." But Gargamel should know because Smurfette later tells Grace that she was created by Gargamel to lure or trap the other smurfs. However, she was rescued by Papa Smurf and set free of her curse.
This is a nice picture of redemption, albeit rather disjointed. Papa Smurf has no powers of creation, and we learn that baby Smurfs are delivered by storks. Thus, Gargamel is the only one to have created a Smurf.
Where do the Smurfs come from anyway?
Names define who you are
We never learn the answer to whether Smurfs are named based on their behavior, or whether they behave according to their names. (Who would want to name their kid "Clumsy" if that would determine their behavior?)
But then look at Jacob and Esau, who were named according to who God knew they would become. Likewise, the Old Testament is full of people whose names were significant. Let's not forget how important each of God's names are to us!
"You can be anything you want to be."
Both Patrick and Clumsy struggle with their personal identities. While this is an encouraging quotation, is it true?
"You're not just one thing." Are we? Then again, Scripture tells us that we are two things: flesh and spirit and that these two fight against each other.
For the flesh sets its desire against the Spirit, and the Spirit against the flesh; for these are in opposition to one another, so that you may not do the things that you please. (Galatians 5:17, NASB)
Papa Smurf can see the future
"Smurf some magic and see what our future holds." Papa keeps coming back to his terrible vision and saying that the visions were never wrong.
Obvious to astute viewers, Papa misinterpreted the vision because he took his presuppositions (that Clumsy would never be of help) to his vague and interrupted visions. He later apologizes to Clumsy, "I believed more in a vision than in you."
And we know that God causes all things to work together for good to those who love God, to those who are called according to His purpose. (Romans 8:28, NASB)
Consequences for disobedience
After seeing a vision of catastrophe, Papa tells Clumsy to stay in the village. Clumsy disobeys and this leads Gargamel right to the village.
Actions have consequences and The Smurfs doesn't sidestep this. We see it among the Smurfs themselves, as well as in the lives of Patrick and Grace.
Despite Clumsy's disobedience, most of the Smurfs are very obedient to Papa, even though they have no biological ties.
A strong marriage
While Hollywood makes a habit of attacking the sanctity of marriage, The Smurfs actually supports it and shows a healthy marriage.
Even though Patrick is extremely pressured by his new job, he still wants to prioritize Grace's ultrasound so he can see their baby.
In a moment of anger, Patrick exclaims that he doesn't want "little people running around." This hurts Grace as she feels this could apply to their baby. Patrick learns the importance of his family—even while it temporarily expanded to include some small blue members.
"God only needed six days to create the world."
We don't hear lines like this very often in movies. While it wasn't elaborated any further, it was in the context of Patrick's needing to finish a major project in two days and thus adds to the "God did more in a short period of time."
Statements like this are rarely the result of the producer's beliefs, but we believe they are also not written out of ignorance.
Follow your heart
This is a strong theme in movies. "Believe," "be confident," "follow your gut," "your heart will guide you," are all familiar lines from movies, and The Smurfs adds to it with, ""When it comes time, you'll know what to do [from your heart]." Does this really work for fathering?
This "if it feels right, just do it" is in stark contrast to the real condition of our heart.
"The heart is more deceitful than all else And is desperately sick; Who can understand it?" Jeremiah 17:9
The good man out of the good treasure of his heart brings forth what is good; and the evil man out of the evil treasure brings forth what is evil; for his mouth speaks from that which fills his heart. Luke 6:45
"For the mouth speaks out of that which fills the heart." (Matthew 12:34b, NASB)
"It is not what enters into the mouth that defiles the man, but what proceeds out of the mouth, this defiles the man." (Matthew 15:11)
Fathers, do not provoke your children to anger, but bring them up in the discipline and instruction of the Lord. (Ephesians 6:4)
The "blue moon" moments
While the story of The Smurfs revolves around the Blue Moon and its magical powers, we're also reminded to seize the moments that come once in a lifetime. "Don't let those blue moon moments pass you by."
Despite his sending the wrong ad, Patrick stands by it saying it was what he should have sent. Another "heart" feeling. But it all turns out for the better.
With Patrick's new job, will he be expected to change the color of the moon for any occasion?
Be still, and know that I am God … (Psalm 46:10a, NKJV)
See then that you walk circumspectly, not as fools but as wise, redeeming the time, because the days are evil. (Ephesians 5:15–16, NKJV)
What the Smurf?
While it's cute how "Smurf" is used to replace many verbs, as well as expletives, it does cause us to consider what actually makes something a "foul word."
Additional thoughts
Smurfette's Marilyn Monroe scene
Kids were like greedy little monsters in the toy store
No one was dressed immodesty, but Patrick's boss acted seductive a couple times when she tried to getvGargamel to give her his secrets
Share your feedback!
What did you think of the movie? Or what general critical-thinking and entertainment thoughts or questions do you have?
Please connect with us
If you enjoy Are You Just Watching?™, please subscribe to our other podcasts: