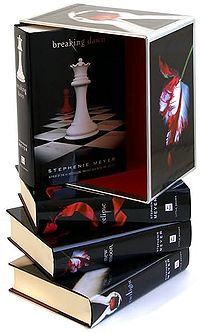 After my lengthy hiatus from my "are you just reading?" posts, thank you for rejoining me for my final post on the Twilight Saga.
If you need a refresher, read and listen to all my thoughts on The Twilight Saga here.
This post has been long in coming and has existed in draft for many months. As I've waited for the inspiration to finish and post it, I've been keeping my thumb on the pulse of the popularity of paranormal romance in our current culture. Fans are going wild for the new hit TV series, The Vampire Diaries, and more fans going nearly rabid with their anticipation for the movie release of Eclipse, not to mention a slew of other books, movies, and television shows filling the popular culture with vampire mania. It's no secret that vampires have hit an all-time high in popularity in our society. While vampires have always existed in the fringe, it appears that Stephanie Meyer's success with her saga has lit a fire of passion over the vampire myth that is beyond belief. Many are asking, "Why are vampires so popular right now?" What is it about these eternal bad boys and girls that is attracting so much fandom?
The speculative answers to these questions vary all over the place, from the romantic nature of "bad boys" to the freedom of cutting loose from mortal ethics and living free to justify any evil. What amazes me most is how the theme of eternal love is repeated over and over as a strong desire for the women involved. This proves to me that the current social trend of "love 'em and leave 'em" is not at heart what women (at least) truly desire. Like Queen sung in their theme for the movie Highlander, "Who wants to live forever, if love must die?"
Eternal, undeserved love
Give thanks to the God of gods.
for his steadfast love endures forever. (Psalm 136:2)
Perhaps the easiest spiritual analogy to draw from the The Twilight Saga is the concept of eternal love. Throughout the four-book story from Bella's almost continuous perspective, Bella shows how completely unworthy she feels of Edward's love.
At first, she can't believe that she could possibly be worthy for him to stay with her because he's too perfect.
He was too perfect, I realized with a piercing stab of despair. There was no way this godlike creature could be meant for me." (Bella, Twilight page 256)
Because she's not good enough.
"It never made sense for you to love me," I explained, my voice breaking twice. "I always knew that." (Bella, New Moon, page 511)
And because she hasn't done anything to deserve his love.
"I trust you," I assured him. "It's me I don't trust."
"Explain that, please."
"Well—" I struggled to find the right way to phrase it. "I don't trust myself to be … enough. To deserve you. There's nothing about me that could hold you." (Bella and Edward, New Moon, page 523)
She won't let him give her gifts because she feels that his love alone has completely unbalanced their relationship:
"You're more important than everyone else. And you've given me you. That's already more than I deserve, and anything else you give me just throws us more out of balance." (Bella, Eclipse, page 413)
This feeling of inadequacy that Bella feels when she compares herself to Edward is a good reminder of how undeserving we are of God's love. We are definitely unworthy of God's love (Romans 3:10–18). There isn't anything we can do to deserve God's love, but the beautiful thing about God's love affair with humanity is that we don't have to deserve His love to have it (Romans 5:8). Just like Bella has Edward's love whether she feels worthy of it, we have God's love even though we are demonstrably unworthy of it. That so many readers have been swept up in the fantastic love affair between Edward and Bella tells me that, at heart, we all recognize our spiritual need to be loved that deeply, that exclusively.
As Solomon said in Ecclesiastes,
He has made everything beautiful in its time. Also He has put eternity in their hearts … . (Ecclesiastes 3:11)
However, it both horrifies and amuses me to see the total obsession over Edward (currently cast in the form of British actor, Rob Pattinson) that has swept the entire world of women. It's something that happens with predictable regularity whenever some really nice-looking guy plays the role of the ideal lover, so it shouldn't be a surprise. Maybe men do or do not understand it, but the concept of someone beautiful and perfect loving us when we are plain and unworthy is a dream that lies beneath a woman's psyche like a snake waiting to strike. The sad thing is that, in the real world, such love is purely a fantasy. I had a good laugh at one of the Facebook groups I stumbled upon recently, "Because I read Twilight I have unrealistic expectations in Men." At least some of us are smart enough to understand this—most of the time.
Isn't it a beautiful truth that there is no greater Lover, whose love is completely undeserved or unwarranted, than that of our heavenly Father. God loves us so much that He sent His son to die on our behalf (John 3:16–17), so that even while we were in our most unworthy, undeserving state, we could find eternal grace in His eyes (Romans 5:8), that we might become His shining and perfect bride forever (Revelation 19:7–8). Wow! Does it get any better than that?
But God, being rich in mercy, because of the great love with which he loved us, even when we were dead in our trespasses, made us alive together with Christ (Ephesians 2:4–5)

In this is love, not that we have loved God but that he loved us and sent his Son to be the propitiation for our sins. (1 John 4:10)
Saving love
The Twilight Saga is not a series of books about salvation, grace, or even mercy. Though I can delve into them and pull out interesting parallels and use them as talking points to bring up the Bible and its powerful message to all mankind, in the end, even the gentle, peace-loving Cullens still face an eternity of dealing with constant painful and uncontrollable appetites, dangerous foes, and a sin-cursed fallen world where death reigns supreme. There is nothing that strikes me as "happily ever after" in the existence that Bella faces with Edward, even though Breaking Dawn ends with the implication that they face a happy and endless future.
While the story of their love has motivated millions of romance-craving women to spend a lot of money on books and movies (myself included), this story cannot fill the real need in our hearts for the type of love that can truly fulfill and sustain us for eternity. If you don't know anything about this love, I certainly hope that you will take the time to learn more about it.
Thank you for reading my posts on The Twilight Saga. I hope that you will return to read my future posts on other books. Follow me on Twitter to get updates about future postings.
If you haven't already, subscribe to our podcast and you'll hear my initial reactions to the Twilight movies, including Eclipse.