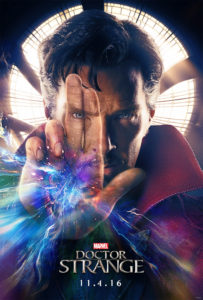 Episode 64 is here, and Eve and I take a walk through the multiverse with Marvel's Doctor Strange. Join us as we discuss the surprisingly spiritual journey of Dr. Stephen Strange as he transitions from saving lives to saving the world.
Strange: Spoiler Free
The newest addition to the Marvel Cinematic Universe has hit the theaters, taking viewers along for the ride as Dr. Stephen Strange seeks to recover from an accident which leaves him unable to practice the medicine which had brought him fame and fortune. His quest to restore his ravaged hands brings him all the way to Kathmandu where he discovers that there are "more to things in heaven and earth…than are dreamt of in his philosophy."
The remarkable score is by our old friend, Michael Giacchino. Maestro Giacchino continues to show why he is one of Disney's go to composers with a score that is just as big as this blockbuster movie.
Doctor Strange is directed by Scott Derrickson, a director with a number of solid horror genre movies to his credit. According to this article at Christianity Today, Derrickson is a Christian director who, "references the biblical injunction to expose evil with light." He continues to do so with Doctor Strange.
Overall, the movie is relatively clean in regards to language and violence. For details on what to expect in more detail, be sure to check the Plugged In review where they provide detail on content like foul language, violence, and any of a sexual nature. For a very interesting read on the Christian take on Doctor Strange, check out When Doctor Strange Went to Ephesus. Be sure to check out the articles linked within that one!
Likes and Dislikes
There is a reason that Benedict Cumberbatch wields such star power, and in Doctor Strange his performance is magical. Combined with the other superbly done elements of the movie, it's no wonder Strange is bringing in repeat viewers.
The path to the multiverse of Doctor Strange is paved with CGI. The movie takes the mind-bending effects used in Inception and elevates them to the next level. But it doesn't feel like CGI for CGI's sake—it fits well within the narrative of the movie.
As with most Marvel franchise films, the love story in Doctor Strange is subtle, but well done. What we found particularly interesting was that Dr. Palmer's love for Stephen Strange was more than the normal fare for Hollywood. Her feelings for him reminded us of the standards for unconditional love. (Check out C. S. Lewis's take on The Four Loves.)
The entire cast delivers in this movie. For me, Chiwetel Ejiofor really hands in another great performance, bringing a lot of depth. He really makes the character of Mordo—just like all of his roles—come alive. Tilda Swinton's performance is memorable, though its impact may vary by preference.
My only complaint for Doctor Strange is that I came away from the movie feeling that the redemption arc for Strange, and by extension, his training as a sorcerer, was incomplete. Of course, this is a Marvel film, and this character will be back, so the creators may come back to this in future releases. Speaking of the training, isn't it a rule that there is supposed to be a musical montage?
The Mysteries Revealed (Spoilers follow)
Dr. Stephen Strange
At the opening of the movie, Dr. Stephen Strange is the very definition of an egotist. His entire existence centers around fomenting his own glory. When he loses fine motor control of his hands, he refuses to accept that there is no healing to be had, even going so far to pursue spiritual healing, convinced that even that has some basis in scientific fact. For Strange, everything is about the "here and now." When confronted with the idea that there is more to existence than what he sees, he exclaims, "We are matter and nothing more!"
"So, when Gentiles, who do not have the law, instinctively do what the law demands, they are a law to themselves even though they do not have the law. They show that the work of the law is written on their hearts. Their consciences confirm this. Their competing thoughts will either accuse or excuse them on the day when God judges what people have kept secret, according to my gospel through Christ Jesus." Romans 2:14-16
It turns out that the personal journey of Dr. Strange is not one of healing his hands, but understanding that he is much more than what he had been able to do with his hands.
Dr. Stephen Strange: "You said losing my hands can be a new beginning."
Dr. Christine Palmer: "Because there are other ways to save lives."
The journey of Dr. Strange became one of returning to his roots. Where he had been all about his personal glory and professional success rate, he remembered something that Dr. Palmer had never forgotten: it is about saving lives. By the end of the movie, Strange rose above his broken hands, just as foreshadowed in the conversation between Mordo and the Ancient One:
Mordo: "I wanted to learn to defeat my enemies, I learned how to defeat my demons."
Ancient One: "We never lose our demons. We only learn to live above them."
Despite all the growth that Stephen Strange's character sees through the course of the movie, his core personality doesn't change. At the end of the movie, Dr. Strange is still a bit of an arrogant jerk. This was a bit of a pleasant change for Hollywood, and reflects the process of salvation as well. When a man or a woman accepts Christ as their personal savior and the Spirit comes into their heart, there is no magical transformation that erases the objectionable characteristics that the new believer had before they were redeemed. There is still so much growth that has to happen, so much to learn and apply toward living a Christlike existence. If he is to become a "better man," Strange still has a lot growth ahead of him.
The initial part of Strange's learning process was very similar to salvation as well. Strange came to Kathmandu convinced that his knowledge would be the bridge to the healing of his hands, but as Mordo instructs, he has to forget everything he thought he knew. Strange approached the Ancient One (and the potential for healing) as a peer, when he really needed to approach the entire process with humility and conviction. It is the same with salvation. We have to give up what we think we know and surrender ourselves to the Creator of the Universe.
Kaecilius
The most engaging type of villain, he is convinced that his is the path that will save humanity from death. In reality, he has been seduced by the lure of the "eternal life" offered by Dormammu. The apostle Paul warns against the power and seduction of false doctrines:
"And He personally gave some to be apostles, some prophets, some evangelists, some pastors and teachers, for the training of the saints in the work of ministry, to build up the body of Christ, until we all reach unity in the faith and in the knowledge of God's Son, growing into a mature man with a stature measured by Christ's fullness. Then we will no longer be little children, tossed by the waves and blown around by every wind of teaching, by human cunning with cleverness in the techniques of deceit." Ephesians 4:11-13
Kaecilius did have some of the best lines in the movie, and was surprisingly the source for more than a little Biblical wisdom. One of the key elements of Kaecilius's worldview was that death was wrong. As it so happens, he's right about that:
"But now Christ has been raised from the dead, the firstfruits of those who have fallen asleep. For since death came through a man, the resurrection of the dead also comes through a man. For as in Adam all die, so also in Christ all will be made alive. But each in his own order: Christ, the firstfruits; afterward, at His coming, those who belong to Christ. Then comes the end, when He hands over the kingdom to God the Father, when He abolishes all rule and all authority and power. For He must reign until He puts all His enemies under His feet. The last enemy to be abolished is death…When the perishable puts on the imperishable, and the mortal puts on immortality, then shall come to pass the saying that is written:

"Death is swallowed up in victory."
"O death, where is your victory?
O death, where is your sting?"

 The sting of death is sin, and the power of sin is the law.  But thanks be to God, who gives us the victory through our Lord Jesus Christ."1 Corinthians 15:20-26,54-57
The problem is, of course, that Kaecilius has given himself over to the enemy of Life and a interesting analog for Satan.
Mordo
The hard-liner of the three spiritual warriors, Mordo holds [his understanding of] right and wrong paramount to all things. When he learns that the Ancient One had been creative with the rules in favor of a greater benefit, he doesn't reassess the place of the rules but rather condemns the one that taught him those rules. He appears to be (or become) a textbook legalist.
In his article, "Doctor Strange is the Most Religious Superhero Movie Ever," author Paul Asay makes a case for the Gospel being a "violation" of the laws that God set in place—but that is the point. The laws of nature, just like every other aspect of creation, are made to serve God's glory first and foremost. The Westminster Confession of Faith provides an excellent proof for this in Chapter V, "Of Providence".
The End?
"For we do not wrestle against flesh and blood, but against the rulers, against the authorities, against the cosmic powers over this present darkness, against the spiritual forces of evil in the heavenly places." (Ephesians 6:12)
Our discussion of Doctor Strange leaves so much left untouched, but that's okay: we have you guys! What stood out to you? Do you think the movie was more a vehicle for Eastern mysticism than it was a look into the spiritual world? Were the Christian themes we picked out intentional or no? Were Eve and I completely off our rockers with any of our thoughts? Let us know! Join the discussion!
Please support the podcast!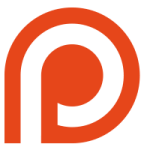 Are You Just Watching? is listener supported. Special thanks to our current patrons: Tim Martin, Craig Hardee, Richard French, and Stephen Brown II for their generous support. We can't continue to share critical thinking for the entertained Christian without your financial help, so please head on over to our Patreon page and become one of our supporting patrons!
Share your feedback!
What did you think of Doctor Strange? We would like to know, even if just your reactions to the trailer or the topics we shared in this episode. Or what general critical-thinking and entertainment thoughts or questions do you have? Would you like to suggest a movie or TV show for us to give a Christian movie review with critical thinking?
Please connect with us