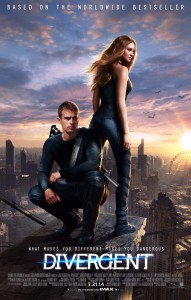 Another young adult bestseller makes it to the big screen with surprising impact. Edgier and much more realistic than the Twilight Saga and containing a theme more personal than the Hunger Games, Divergent takes us into a world where people are categorized by their dominant personality trait. Take a test and choose a faction, and the rest of your life is decided . . . unless you are a divergent.
I liked this book and movie. While there are questions left to be answered, some of which may indicate some interesting plot holes, I found the world of Divergent to be credible and interesting. The characters are deep, the themes worth discussion, and the story has just enough mix of action and romance to appeal to a slightly broader audience than its predecessors in the genre.
The movie was a good translation of the novel, but definitely earned it's PG-13 rating. There is violence throughout, which means that parents should be careful when deciding whether the content is appropriate for their children. There are scenes where the characters deal with personal fears that can be pretty suggestive for a younger audience (of things such as child abuse and rape—though nothing actually goes that far). The sexual content is fairly tame by today's standards, but there are kisses and skin shown, so be warned if that kind of thing bothers you. For a more in-depth review of the appropriateness of Divergent for your family, check out PluggedIn.com.
The soundtrack contains mostly popular music, but the score by Junkie XL had a techno/electronic feel and was over all appropriate to the story.
I thought the casting was quite good, though I was a bit distracted by Maggie Q as Tory. She's been type cast as Nikita for me, and I have a hard time losing that image.
End spoiler free section
Human Nature
The war was terrible. The rest of the world was destroyed.

Human weakness is the enemy. Eradicating it is how we will maintain a peaceful society.

Human nature destroyed our world . . . we will restore the peace. This time it will last.
I think the movie does a better job of setting the stage than the novel did. What I found most interesting was the emphasis on "human nature" as the evil that caused the war and now threatens the fragile post-war society. From a Christian worldview, you won't find me arguing with the premise. In fact, it's almost biblical.
Societies that are founded on the idea that mankind is innately good are destined to fail because it's easy to prove that mankind is innately selfish, proud, and at the very least prone to prevaricate. There is no perfect society apart from one that holds God as the central authority.
Romans 3:9-18, 23; 5:12; Psalm 51:5
Belonging
It all works. Everyone knows where they belong.

Trust the test . .. the test will tell me who I am and where I belong.

The future belongs to those who know where they belong.
Divergent presents a mostly secular society, though if you read the novel, Tris admits that those in her home faction (abnegation) are sometimes, if not mostly, religious, which fits with their selfless character trait. While the society portrayed in Divergent attempts to help people find where they belong based on a psych test, the only true purpose and belonging an individual can find is by seeking God's perfect plan through the guidance of the Holy Spirit.
The Lord has made everything for its purpose, even the wicked for the day of trouble. Proverbs 16:4

Many are the plans in the mind of a man, but it is the purpose of the Lord that will stand. Proverbs 19:21

For I know the plans I have for you, declares the Lord, plans for welfare and not for evil, to give you a future and a hope. Jeremiah 29:11

If any of you lacks wisdom, let him ask God, who gives generously to all without reproach, and it will be given him. James 1:5
If you are searching for meaning in this life from more secular pursuits, take some time to read the book of Ecclesiastes in the Bible.
Discussion of Free Will
On a bit of a bunny trail, I was fascinated by the idea that the Erudite wanted to make a mindless army out of the Dauntless soldiers, which juxtaposed with the stated new rule that Dauntless would only accept the ten best (according to the book) out of each year's initiates.  If you are going to turn them into mindless soldiers, why restrict those numbers to the best? It's not like those mindless soldiers are really going to perform at their best anyway. A good soldier has free will to perform his/her duty intelligently.
The Well-rounded Personality
 I have a theory that selflessness and bravery aren't all that different  . . .
In the book, there is an admission that the most religious people are in the Abnegation faction (though not everyone in Abnegation are religious). I think that actually makes sense because to be truly selfless, you have to have faith in something outside yourself that is greater than you are.
Greater love has no one than this, that someone lay down his life for his friends. John 15:13

For one will scarcely die for a righteous person—though perhaps for a good person one would dare even to die— but God shows his love for us in that while we were still sinners, Christ died for us. Romans 5:7-9
Once you have that foundation of faith, you are able to set others' needs above your own . . . just as Christ did for everyone by giving his own life to pay our sin debt.
I don't just want to be one thing: I want to be brave, and selfless, and smart, and kind, and honest.
Four/Tobias is an interesting character who tries to be the best person he can be—taking the best from each of the factions and applying them to himself. Tris, however, notes (in the book) that there is always a bad trade in striving for the positives—and equal negative that then must be struggled with. This is always the case when we strive for righteousness on our own. Without the aid of the Holy Spirit, we will always fall short of true righteousness.
Did you see that?
Joey shares with us his thoughts on M. Night Shyamalan's Devil (2010).
Share your feedback!
What did you think of Divergent? We would like to know, even if just your reactions to the trailer or the topics we shared in this episode. Or what general critical-thinking and entertainment thoughts or questions do you have? Would you like to suggest a movie or TV show for us to give a Christian movie review with critical thinking?
Please connect with us