Spoiler-free review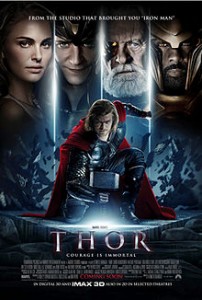 Thor is wonderfully clean of gore and sexuality, but it obviously contains violence, magic, and some unearthly creatures.
It has somewhat moral messages of honor, obedience,  sacrifice, and honesty. Thor also makes us rethink certain mythologies. But opens discussions on heaven, science and magic, redemptions, and more.
For a review on Thor's family-friendliness, read the PluggedIn review from Focus on the Family.
Thor also has a great soundtrack by Patrick Doyle.
The rest of these podcast shownotes and the audio episode contain spoilers.
Mankind is not alone
In the opening narration, Odin tells that mankind once accepted that he was alone in the universe and that the planets were homes to gods. And these "gods," in the form of Asgard, got involved only when mankind faced a terrible threat on their existence.
The real, simply truth is that we aren't alone! God is always present and also gives His angels charge over us to guard us.
Make sure that your character is free from the love of money, being content with what you have; for He Himself has said, "I WILL NEVER DESERT YOU, NOR WILL I EVER FORSAKE YOU," [Hebrews 13:5]
God is our refuge and strength,

A very present help in trouble. [Psalm 46:1]
For He will give His angels charge concerning you,

to guard you in all your ways. [Psalm 91:11]
Eternal realm and the Worlds Tree
Asgard is called "the realm eternal." All of the worlds connected through the Worlds Tree. It's easy to see that these myths came from the original retellings of creation, but distorted by separating God.
For thus says the High and Lofty One

Who inhabits eternity, whose name is Holy:

"I dwell in the high and holy place,

With him who has a contrite and humble spirit,

To revive the spirit of the humble,

And to revive the heart of the contrite ones." [Isaiah 57:15, NKJV]
Gods or aliens?
"This isn't earth where you summon a little lighting and thunder and the mortals worship you as a god."
As if just a little thunder and lightning would make us think that! God has great control over the elements, but He doesn't need them to prove He is God.
After the earthquake a fire, but the LORD was not in the fire; and after the fire a sound of a gentle blowing. [1 Kings 19:12]
In some sense, it's only logical to see man want to take even a myth about a "god" and turn him into a regular being or simply an alien.
Odin, the all-father
Thor's father is Odin, called the "all-father." He's held in such high regard and control over everything that Thor's mother says, "there is always a purpose to everything your father does."
The LORD has made everything for its own purpose, Even the wicked for the day of evil. [Proverbs 16:3]
We know that God acts in the lives of men. He has not ignored His creation.
And we know that God causes all things to work together for good to those who love God, to those who are called according to His purpose. [Romans 8:28]
Odin sleeps and even succumbs to some kind of deep, almost eternal sleep.
My help comes from the LORD,

Who made heaven and earth.

He will not allow your foot to slip;

He who keeps you will not slumber.

Behold, He who keeps Israel

Will neither slumber nor sleep. [Psalm 121:2–4]
Science versus magic
"Your ancestors called it magic, you call it science. Where I come from, they're one and the same."
We've seen this theme in The Sorcerer's Apprentice, and it's even partially true. What we call science and technology today could easily be feared or thought of as magic many years ago. It takes some true critical thinking to distinguish slight-of-hand, deception, and technology, from what is the power of evil.
"You won't be able to convince the scientific community of it. Not without hard evidence."
O Timothy, guard what has been entrusted to you, avoiding worldly and empty chatter and the opposing arguments of what is falsely called "knowledge"—which some have professed and thus gone astray from the faith. [1 Timothy 6:20–21]
A couple of the definitions of science:
systematized knowledge in general.
knowledge, as of facts or principles; knowledge gained by systematic study.
A definition of magic:
the art of producing a desired effect or result through the use of incantation or various other techniques that presumably assure human control of supernatural agencies or the forces of nature.
Definition of supernatural:
of, pertaining to, or being above or beyond what is natural; unexplainable by natural law or phenomena; abnormal.
of, pertaining to, characteristic of, or attributed to God or a deity.
Are Christians/creationists anti-science? NO! God tells us throughout Scripture to seek knowledge, understanding, and wisdom. To shy away from these is to disobey God and lose opportunity to know more about Him by studying His work.
Be fruitful and multiply, and fill the earth, and subdue it; and rule over the fish of the sea and over the birds of the sky and over every living thing that moves on the earth. Genesis1:28
Source of power
Thor's hammer was "forged from a dead star. It's power has no equal—weapon to destroy or a tool to build." A nice reminder of the power of the tongue.
But we know a source of power far sharper than a hammer!
For the word of God is living and active and sharper than any two-edged sword, and piercing as far as the division of soul and spirit, of both joints and marrow, and able to judge the thoughts and intentions of the heart. [Hebrews 4:12]
A "god" became man, was redeemed
The movie Thor makes it clear that Thor has his powers from science, not magic or deity. But Thor lost this power when he rebelled and was cast out of Asgard. This is a painful picture of what God must've felt to separate us from Himself because of our sin.
But when Jesus Christ walked among us, it was not a punishment but obedience to His Father.
And the Word became flesh, and dwelt among us, and we saw His glory, glory as of the only begotten from the Father, full of grace and truth. [John 1:14]
Thor was cast down to Earth to be punished and to prove his worth. He gave his life to redeem himself, but then he also gives his life to save the lives of the nearby innocent people.
Jesus Christ took on the form of man for an entirely different purpose, gave His life to redeem all mankind.
"For God so loved the world, that He gave His only begotten Son, that whoever believes in Him shall not perish, but have eternal life." [John 3:16]
Have this attitude in yourselves which was also in Christ Jesus, who, although He existed in the form of God, did not regard equality with God a thing to be grasped, but emptied Himself, taking the form of a bond-servant, and being made in the likeness of men. Being found in appearance as a man, He humbled Himself by becoming obedient to the point of death, even death on a cross. [Philippians 2:5–8]
Adoption
It's a beautiful picture to see that Odin adopted as his own the enemy's son. But Odin did this with a purpose to make peace with his enemies. God adopts us, who are already the enemy of God, to make peace with us, His enemies.
He predestined us to adoption as sons through Jesus Christ to Himself, according to the kind intention of His will, [Ephesians 1:5]
For you have not received a spirit of slavery leading to fear again, but you have received a spirit of adoption as sons by which we cry out, "Abba! Father!" [Romans 8:15]
Defiance
Defiance, rebellion, and treason are threads throughout the movie Thor. Thor first defies his father to go to Jotunheim to punish the Frost Giants for their raid on Asgard. Then Thor talks back to his father and gets banished. His friends defy the new king's orders and go to Earth to bring Thor back.
Then silver tongue Loki has a habit of fighting with deception.
You are of your father the devil, and you want to do the desires of your father. He was a murderer from the beginning, and does not stand in the truth because there is no truth in him. Whenever he speaks a lie, he speaks from his own nature, for he is a liar and the father of lies. [John 8:44]
Government overstepping its bounds
We see some government control ideology when referencing "unregistered weapons" and the way they seize Kate's equipment.
Share your feedback!
What did you think of Thor? Even if just your reactions to the trailer or the topics we shared in this episode. Or what general critical-thinking and entertainment thoughts or questions do you have? Would you like to suggest a movie or TV show for us to give a Christian movie review with critical thinking?
Please connect with us
If you enjoy Are You Just Watching?™, please subscribe to our other podcasts:
Get high-quality custom podcast cover art designed by Daniel J. Lewis.