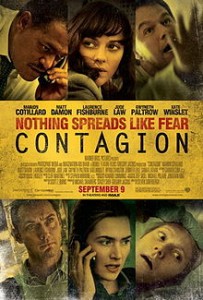 Contagion is not the first or last virus movie. But it does raise questions of morality, evolution, and—what else?—the end of humanity.
Spoiler-free review
Contagion seemed like a very believable telling of what could happen with a deadly virus outbreak. There's no "hero" of the story, and even the big-name cast don't seem like "main" characters. Contagion is not gory (although we do see one person's scalp removed for an atopsy), but only has some "disturbing images" of people (all ages) being sick, having seizures, and dying. For entertainment, Contagion was rather boring. However, it did make us realize how easily we spread germs. The rest of the recorded episode and these shownotes contain spoilers.
Unfaithful marriages
Right from the start, we see Beth Emhoff (Gwyneth Paltrow) take a phone call in the airport. The caller identifies himself as "the guy you just had sex with in a hotel room." With the setting of being in an airport, it could seem like this is Beth's husband calling, but it isn't. He is a former affair, which Beth saught out in her travel home from China. As Contagionprogresses, we're led to believe that Beth may have contracted this deadly virus from her adulterous relationship. But this ends up not being the case. Yet another movie where adultery and fornication has no consequences. Beth isn't the only unfaithful spouse. Her husband Mitch (Matt Damon) also has a divorce in his history and his ex-wife is living with a new guy.
Physical and moral health
Mitch is so concerned with the health of his own family, that he refuses to let his daughter be with a boy she likes … until the boy is vaccinated. Mitch's only concern is his daughter's safety form the virus—not her moral purity. A village holds a doctor hostage in order to receive their vaccination early. But their behavior is rewarded with more deception. Contagion well portrays how many people may reject the truth, or twist it in order to profit. When man rejects God's authority, it's no wonder that there's so much greed.
Evolution in a virus
A common theme in any movie with any biology is that species, bacteria, and especially anything deadly tends to "evolve" with greater powers. While it's undeniable that we see change in biology around us, this is never an upward change like evolution would require. It was also said that our immune system is "still in development." But the truth is that we're in digression as our perfect systems that God designed are breaking down after a 6,000-year-old curse because of sin. Read more about mutations in bacteria and evolution from Answers in Genesis.
Revelation and the end of the world
The truth of _Contagion_ is that such circumstances could happen. Actually, the Bible foretells in Revelation many times of mass populations dying from the different judgments of the tribulation. A major deadly virus is not out of the question. But how this happens is the least of our worries when we consider what life is like separated from God. Many people ask how a loving God could allow such deadly things. But the better question is how merciful is God to have allowed us to live this long as disobedient as we are to Him. Mutations happen because we live in a sin-cursed world with some very deadly things. Oh for the day with God will sustain everything at 100%!
Best line from Contagion
When popular blogger Alan Krumwiede (Jude Law) tries to get the inside scoop from a doctor, he's told, "Blogging is not writing, it's graffiti with punctuation."
Share your feedback!
What did you think of Contagion? Even if just your reactions to the trailer or the topics I shared in this episode. Or what general critical-thinking and entertainment thoughts or questions do you have? Would you like to suggest a movie or TV show for us to give a Christian movie review with critical thinking?
Please connect with us
If you enjoy Are You Just Watching?™, please subscribe to our other podcasts: