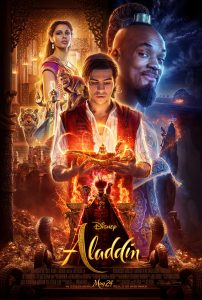 Disney's Aladdin continues the trend of transforming animated classics into live-action stories. It is directed by Guy Richie and stars Will Smith, Mena Massoud, and Naomi Scott. The original music by Alan Menken is retained, but also includes the new song, Speechless by Benj Pasek and Justin Paul. Eve and I check out Aladdin's whole new world and  take a look at this Americanized Middle Eastern folk tale through the lens of scripture.
Aladdin stays relatively true to the source material, similarly to the other life-like transformations. It made only subtle changes to update the story for more modern sensibilities. Cultural changes are made for accuracy and sensitivity and gender stereotypes are softened. The original Aladdin had an MPAA rating of G, while this live action version received a PG rating. Not only was the movie a little darker than the source, violence and threats carry a bit more weight on screen when coming from a real person rather than an animated character. For more details on how the rating and content change the experience for the family, check out Focus on the Family's Plugged In review of Disney's Aladdin.
First Impressions
We started out split regarding which version of Aladdin is the better offering. As Eve rightly points out, the use of live action actors reinforces the empowerment of the princess just as effectively as it does with the violence and threats. As a result, the culture comes across as more authentic. The audience is better able to relate to the characters, too, so you feel a bit of personal triumph when Jasmine overcomes her culture's patriarchal oppression.
The 1992 animated version of Aladdin was really a vehicle for the raw improv talent of Robin Williams with the story of Aladdin thrown in for good measure. The 2019 live action version of Aladdin is the story of Aladdin. The cast performances are balanced well. No one star outshines any other and the story is able to take center stage. The Genie has much more depth than Williams' portrayal, allowing him not only humor but also wisdom and a little bit of romance. Jafar is a much more potent villain, not only because of his live-action portrayal but also because you get glimpses of his past, allowing a little bit of empathy.
As mentioned, Jasmine's empowering solo song "Speechless" was a departure in more ways than one. It had a different flavor than the original music, a more modern feel. It also felt a bit out of place because of how it was placed in the movie. When she sings her solo, reality around her dissolves in a way that is a bit inconsistent with the other magic of the film.
No movie today seems unable to escape controversy, and Aladdin is no exception. Social media brings us plenty of complaints regarding casting choices for race, culture, and just plan preference. I was surprised, though, that one of the lyric changes I pegged as of recent social justice origin was actually from the 1992 release!
Jasmine's conversion into an unwilling participant in an [near] abusive patriarchal culture is not as jarring as we expected it to be. You might even find it appropriate. When considering the culture as portrayed and the social changes of the last quarter century, it might even have been more jarring to not have her resistant to the "seen but not heard" expectations of those in power.
Trapped
The first of the major themes of Aladdin is how each of the main characters feel trapped in their respective situations. Jasmine is trapped in a hierarchy that won't allow her to use her skills to become Sultan. Aladdin is trapped in his poverty. Jafar is trapped in his rule as "second" to the Sultan. Thanks to the toning down of the Genie's role, you can even see clearly how the he is trapped by his power.
The feeling of being trapped is very much a trap in and of itself. When you feel trapped, you often will respond by either fighting with ferocious mindlessness or give into despair. Both reactions are like struggling in quicksand, simply serving to drag you down further. The greatest trap humanity faces is being trapped in slavery to sin. No matter what we do, no matter how we struggle, there is nothing we can do to escape. Christ, though, has died on the cross to offer us a path to freedom. He has purchased us from our bondage.
So Jesus said to the Jews who had believed him, "If you abide in my word, you are truly my disciples, and you will know the truth, and the truth will set you free." They answered him, "We are offspring of Abraham and have never been enslaved to anyone. How is it that you say, 'You will become free'?" Jesus answered them, "Truly, truly, I say to you, everyone who practices sin is a slave to sin. The slave does not remain in the house forever; the son remains forever. So if the Son sets you free, you will be free indeed." (John 8:31-36)
[speaking of false teachers] They promise them freedom, but they themselves are slaves of corruption. For whatever overcomes a person, to that he is enslaved." (2 Peter 2:19)
Many times, the sense of being trapped is an illusion as well—you can choose to be content with your situation. If you can find contentment, you can set aside jealousy and greed. Paul provides is with an example:
I don't say this out of need, for I have learned to be content in whatever circumstances I find myself. I know both how to make do with little, and I know how to make do with a lot. In any and all circumstances I have learned the secret of being content—whether well fed or hungry, whether in abundance or in need." (Philippians 4:11-12)
Don't Drink from That Cup
It is hard to be content when everything you might wish is at your fingertips, though. This is the second of the major themes, and one that is more intense in this new live action version of Aladdin. The Genie was a source of wisdom when it came to addressing this thirst for power and wealth. Twice he warns Aladdin away, "Do not drink from that cup. There isn't enough money and power in the world to satisfy," and, "The more you have. The more you want." But despite the Genie's voice of experience, Aladdin very nearly followed that destructive path.
Not surprisingly, jealousy and greed are recurring concerns in Scripture:
When you sit down to eat with a ruler, observe carefully what is before you,
and put a knife to your throat if you are given to appetite.
Do not desire his delicacies, for they are deceptive food.
Do not toil to acquire wealth; be discerning enough to desist.
When your eyes light on it, it is gone, for suddenly it sprouts wings, flying like an eagle toward heaven." (Proverbs 23:1-5)
When we are striving for anything other than to bring glory for God, we are in sin. Scripture teaches us to be content with what we have.
But godliness with contentment is great gain, for we brought nothing into the world, and we cannot take anything out of the world. But if we have food and clothing, with these we will be content. But those who desire to be rich fall into temptation, into a snare, into many senseless and harmful desires that plunge people into ruin and destruction. For the love of money is a root of all kinds of evil. It is through this craving that some have wandered away from the faith and pierced themselves with many pangs." (1 Timothy 6:6-10)
Do not lay up for yourselves treasures on earth, where moth and rust destroy and where thieves break in and steal, but lay up for yourselves treasures in heaven, where neither moth nor rust destroys and where thieves do not break in and steal. For where your treasure is, there your heart will be also." (Matthew 6:19-21)
He who loves money will not be satisfied with money, nor he who loves wealth with his income; this also is vanity." (Ecclesiastes 5:10)
Keep your life free from love of money, and be content with what you have, for he has said, "I will never leave you nor forsake you." (Hebrews 13:5)
All-Powerful, but Not All-Knowing
The Genie is thought to be the most powerful being in the universe in the movie, but clearly has limitations: "I can't make anybody love anybody, and I can't bring anybody back from the dead."
It's also clear that he isn't omniscient. as there are a lot of things that he doesn't know. 
As we've mentioned, Are You Just Watching has recently joined the Christian Podcasting Community. CPC is a community of Christ-minded podcasts dedicated to injecting sound theology into daily life. One of the CPC's founders, Andrew Rappaport, has a very short, "Rapp Report Daily" with which he has recently been reviewing the attributes of God.
Here is a quick breakdown of the four "omni" characteristics of God:
Potency: power; authority. Luke 1:37
Presence: the state or fact of being present, as with others or in a place. Psalm 139:7-12
Science: the state of knowing. Job 37:16, Psalm 147:5, 1 John 3:20
Benevolent: Characterized by or suggestive of doing good. Matt 19:17
As those verses describe, God is all-powerful and all-authoritative, all-present (God's presence is in all places at once), all-knowing, and is all(perfectly)-good.
Internal/External Change
Another tidbit of wisdom from the Genie in this story is the idea that he could change the outside, but the inside—the person—would remain the same. "I made you look like a prince on the outside but on the inside you're still Aladdin, " and "Prince Ali got you to the door, Aladdin has to open it."
But the Lord said to Samuel, "Do not look on his appearance or on the height of his stature, because I have rejected him. For the Lord sees not as man sees: man looks on the outward appearance, but the Lord looks on the heart." (1 Samuel 16:7)
On the contrary, a person is a Jew who is one inwardly, and circumcision is of the heart—by the Spirit, not the letter. That person's praise is not from people but from God." (Romans 2:29)
This biblical theme was the entire point of this element from the movie: It is the man on the inside that matters. You can be the most attractive, rich, and strongest man on the planet, but if you lack the Holy Spirit, you are corrupt beyond human repair. But with Christ, even the most homely, poor, and weakest man on the planet is a prince because of Who he has in his heart.
Therefore, if anyone is in Christ, he is a new creation. The old has passed away; behold, the new has come." (2 Corinthians 5:17)
Conclusion
More than most of today's Hollywood offerings, Aladdin is a movie that opens doors for some fun yet poignantly spiritual discussions. It can be an excellent stepping stone for Christians to share the Gospel of Jesus Christ. Aladdin (2019) is a different movie than Aladdin (1992), but is every bit its own movie with pros and cons all its own.
Please support the podcast!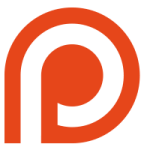 Are You Just Watching? is listener supported. Special thanks to our current patrons: Craig Hardee, Stephen Brown II, and Peter Chapman for their generous support. We can't continue to share critical thinking for the entertained Christian without your financial help, so please head on over to our Patreon page and become one of our supporting patrons!
Share your feedback!
What did you think of Aladdin? We would like to know, even if just your reactions to the trailer or the topics we shared in this episode. Or what general critical-thinking and entertainment thoughts or questions do you have? Would you like to suggest a movie or TV show for us to give a Christian movie review with critical thinking?
Please connect with us