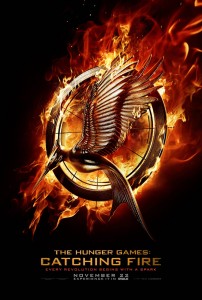 Dr. Jayce O'Neal from The Strangers and Aliens podcast joins Eve in discussing The Hunger Games: Catching Fire from a Christian worldview.
Crossover Event
I recently joined the Strangers and Aliens hosts in a discussion of the anticipated sci fi and fantasy movies for 2014.  In exchange, I have Dr. Jayce O'Neal as a guest for this one episode.
Here are links to the podcasts and the podcast episodes that are part of the Christian Geek Crossover Event!
Geekually Yoked – http://geekuallyyoked.com – Hosted by a wife and husband team, their podcast covers a broad spectrum of geek-related topics.
The Sci-Phi Show – https://sciphishow.com – Focuses on philosophical concepts as brought to life by sci-fi and fantasy examples.
Untold Podcast – http://www.untoldpodcast.com – Sci-fi and fantasy stories, every month.
The Sci-Fi Christian – http://thescifichristian.com – Long running podcast that focuses on both timeless topics and timely news.
Reel World Theology – http://www.reelworldtheology.com – Covers movies and television from a Christian perspective.
The Storymen – http://www.storymen.us – Hosted by three writers/pastors/teachers, features topic discussions and interviews.
Geek This! Podcast – http://geekthispodcast.com – Covers pop culture and things of geek interest.
Voices in My Head – http://rickleejames.com/podcast/
Are You Just Watching? – https://areyoujustwatching.com – Reviews movies and other media from a Christian worldview.
Strangers and Aliens – http://strangersandaliens.com – Deals with speculative fiction and Christianity.
What we thought of the movie
Dr. Jayce was surprised that he liked Catching Fire. He especially liked the setting and thought Katniss was a successful female heroine of an action movie. He found that he identified with the characters. Eve appreciated that the movie stuck quite close to the book and was not over done with special effects.
Catching Fire is pretty intense in several places, so it has earned it's PG14 rating. Be sure to check out the review on PluggedIn.com for family friendly review.
Catching Fire was scored by James Newton Howard, and it is a highly appropriate and well-paced soundtrack.
Spoilers beyond this point!
Christians and politics
Like the government in the Hunger Games movies, totalitarian governments rule through fear and intimidation. Where is a Christian's place in politics?  What would Jesus have done if he had been forced to be a tribute in the Hunger Games?
Then the Pharisees went and plotted how to entangle him in his words. And they sent their disciples to him, along with the Herodians, saying, "Teacher, we know that you are true and teach the way of God truthfully, and you do not care about anyone's opinion, for you are not swayed by appearances. Tell us, then, what you think. Is it lawful to pay taxes to Caesar, or not?" But Jesus, aware of their malice, said,"Why put me to the test, you hypocrites? Show me the coin for the tax." And they brought him a denarius.And Jesus said to them, "Whose likeness and inscription is this?" They said, "Caesar's." Then he said to them, "Therefore render to Caesar the things that are Caesar's, and to God the things that are God's." Matthew 22:15-21
The contract was written by men—it can be unwritten
In the case of Catching Fire, they are discussing the contract that created the Hunger Games, but as Christians we deal with this criticism of the Bible, that it was written by mere men.
And we have the prophetic word more fully confirmed, to which you will do well to pay attention as to a lamp shining in a dark place, until the day dawns and the morning star rises in your hearts, knowing this first of all, that no prophecy of Scripture comes from someone's own interpretation. For no prophecy was ever produced by the will of man, but men spoke from God as they were carried along by the Holy Spirit. 2 Peter 1:19-21
Reluctant hero
Does Katniss really understand what she has become? She has become a symbol for a revolt that she's not really sure she wants a part in.
Dr. Jayce notes that Gideon was a very reluctant hero in the Old Testament.
Reminds Eve of one of the underlying themes in the continuation of the Dune series: that the "holy" war takes over the hero, and the hero has no control over it: he becomes a figurehead used by his followers rather than a leader.
Contrast this to Christ, who refused the role of military leader, even though many of his followers wanted him to be the conquering king that would free Israel.
And behold, one of those who were with Jesus stretched out his hand and drew his sword and struck the servant of the high priest and cut off his ear. Then Jesus said to him, "Put your sword back into its place. For all who take the sword will perish by the sword. Do you think that I cannot appeal to my Father, and he will at once send me more than twelve legions of angels? But how then should the Scriptures be fulfilled, that it must be so?" Matthew 26:51-54 (also Luke 22:49-51)
Remember who the real enemy is
"When you're in the arena, remember who the real enemy is."
Like Katniss in the arena, we Christians have a greater enemy than those who stand against our faith either personally or politically. It's good for us to remember who are real enemy is:
Put on the whole armor of God, that you may be able to stand against the schemes of the devil. Ephesians 6:11

Be sober-minded; be watchful. Your adversary the devil prowls around like a roaring lion, seeking someone to devour. 1 Peter 5:8
Where there is hope
"Fear does not work, if there is hope"

"It's not living, but since the last games I've seen something different. Hope."
Contrasting this series with the original Star Wars trilogy, I find it interesting that hope is introduced in the second movie instead of the first and then the second movie actually ends with an upswing in the prevailing circumstances for the heroes, rather than seeming tragedy.
However . . .  from a Christian standpoint, it is such a fragile hope indeed. We have an even greater hope in Christ that transcends all fear.
What then shall we say to these things? If God is for us, who can be against us? He who did not spare his own Son but gave him up for us all, how will he not also with him graciously give us all things? Who shall bring any charge against God's elect? It is God who justifies. Who is to condemn? Christ Jesus is the one who died—more than that, who was raised—who is at the right hand of God, who indeed is interceding for us. Who shall separate us from the love of Christ? Shall tribulation, or distress, or persecution, or famine, or nakedness, or danger, or sword? As it is written,

"For your sake we are being killed all the day long;    we are regarded as sheep to be slaughtered."

No, in all these things we are more than conquerors through him who loved us. For I am sure that neither death nor life, nor angels nor rulers, nor things present nor things to come, nor powers, nor height nor depth, nor anything else in all creation, will be able to separate us from the love of God in Christ Jesus our Lord. Romans 8:31-39
Share your feedback!
What did you think of The Hunger Games: Catching Fire? We would like to know, even if just your reactions to the trailer or the topics we shared in this episode. Or what general critical-thinking and entertainment thoughts or questions do you have? Would you like to suggest a movie or TV show for us to give a Christian movie review with critical thinking?
Please connect with us