Is it about football, Christian charity, booster loyalty, or just plain greed? Is this story a Christian parable, an insult to Christianity, or worse, a tragedy of how a black man was exploited by wealthy white Republicans? Eve Franklin explores prominent spiritual themes in the book The Blind Side (made into a The Blind Side by the same title).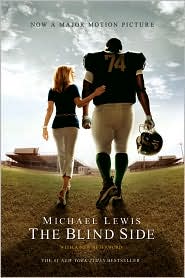 Even the author seems amazed at how his account of the true story of football star Michael Oher has been taken by the various critics who have both denigrated and praised his book. But in the end, when asked what he thinks the story of The Blind Side is, Michael Lewis replies:
I always thought of this as a story with a fairly simple purpose: to examine the many forces—chance encounters with a family, big changes in football strategy—that affected the value of this one unlucky turned lucky boy. Those forces have obviously changed, but the boy remains very much the same. (The Blind Side, Afterword to the paperback edition, p. 333).
Though I suspect at this point most people will think of the movie, which stars Sandra Bullock, when they hear (or read) the title The Blind Side, the book is a bestseller, which means there are lots of people who have, like me, read the book (or at least they bought it). I confess to having seen the movie first. In fact, the movie, in my opinion, was the best to come out in 2009, and I hope that Daniel and I get the opportunity to do a podcast or two on the DVD in the future. But in this post, I'm dealing with the book, which tells the true story of Michael Oher though Michael Lewis's extensive research.
I'm not much of a nonfiction reader. I can count the number of nonfiction books I've read for enjoyment in the last ten years and not run out of fingers (on one hand). I'm also far from a football fan. I usually leave the TV off or stick in a DVD when everyone else is attending Superbowl parties. Before reading The Blind Side, I couldn't have told you the difference between a quarterback and a left tackle. I didn't know, and I didn't care to know. Will I watch a football game now that this book has enlightened me? Probably not. It's not a sport that appeals to me. But the story of Michael Oher and the people who made it possible for him to play football in the major league today does appeal to me, strangely enough, and the story is rampant with topics to be discussed from a Christian worldview.
Born again
Blessed be the God and Father of our Lord Jesus Christ, who according to His great mercy has caused us to be born again to a living hope through the resurrection of Jesus Christ from the dead, to obtain an inheritance which is imperishable and undefiled and will not fade away, reserved in heaven for you, (1 Peter 1:3-4, NASB)
The transformation of Michael Oher's life and future seems to have begun with a transformation in the life of a woman known as "Betty Boo."
Big Tony's mother's name was Betty, but she went by "Betty Boo." Right up until Big Tony reached the sixth grade, Bettty Boo had been the party girl of Hurt Village. She smoked, she drank, she ran around; then suddenly, in 1973, she gave up alcohol, then her three-pack-a-day cigarette habit, then sin itself. She announced she had been saved, and accepted Jesus Christ as her Lord and Savior—and spent the next twenty-five years mailing pamphlets and pressing Christian literature and videos into people's hands. (The Blind Side, page 46)
According to Tony Henderson ("Big Tony"), it was his mother's dying wish that Tony's son get a Christian education, and when Tony took his son, Stephen, across Memphis to apply at an exclusive Christian school, he brought Big Mike along with him. Because of this deathbed wish, Michael Oher came in contact with people who would help change his life.
The book goes on to explore small spiritual highlights of the people who have an impact on Michael Oher's admission into an exclusive, and expensive, Christian school: Hugh Freeze (the high school coach) is described as a "man of God" (page 49),  Steve Simpson (the principal) is said to have "a heart that barely fits in this building" and is described as having "placed front and center on his desk a framed passage from the Bible" (2 Corinthians 9:8, page 51), and Jennifer Graves (the school's special needs program coordinator) is quoted as saying that "I decided early on in life that Christ was calling me to work with the kids who did not have it so easy" (page 55).
The story then turns to Sean Touhy, an "American success story," who "had come from nothing and made himself rich" (page 60). Sean "knew what it meant to be the poor kid in a private school because he'd been one himself" (page 62).
He left Ole Miss with a  fiancee  and a new religion. But he left without a penny. Now, by the fall of 2002, he'd become, by just about every way they measured it in Memphis, a success. He'd been Born Again, and helped to create one of the fastest growing evangelical churches in Memphis, the Grace Evangelical Church." (page 65)
The book goes on and on about the Christians in Michael Oher's life. It even says near the end that Michael himself got "saved at Briarcrest" (page 318). If this book is not a Christian parable, it sure comes close to being all about the life-changing power of Jesus Christ in the lives of those who trust in Him ( there's a lot in the book about football, too).
Now, if The Blind Side was a fiction book, one could easily assume that the author was creating this trail of Christian influence on purpose to make a point that Christ changes lives, that Christians doing God's will can change lives, and that Christian charity can have a vital and lasting positive impact on the people who benefit from it. But points made through fictional stories are often just figments of the author's imagination. When the story is true, though, it's not just the author preaching from a soapbox.
Are the people who claim to have been "born again" really different? What has changed? Why are they "better" people with different goals and motivations?
Therefore if anyone is in Christ, he is a new creature; the old things passed away; behold, new things have come. (2 Corinthians 5:17, NASB)
This is why it's called being "born again"—the person is spiritually born into a new existence, becoming a new person in Christ.
Adoption
For you have not received a spirit of slavery leading to fear again, but you have received a spirit of adoption as sons by which we cry out, "Abba! Father!" (Romans 8:15, NASB)
Regardless of if you believe the Touhys took in Michael Oher as their own son because they thought he would lead their alma mater's football team to a Championship, or because he would become a wealthy left tackle in big league football, you have to admit that there is something incredibly touching about the relationship that developed between Michael and his "white" family.
"When I moved in with Leigh Anne and Sean, I felt loved," said Michael, "like part of a family. In the other houses I didn't feel like part of the family. I didn't feel like they wanted me there." (page 150)
And they did love him. He was on their Christmas cards as one of the children. He was in their will, heir to his portion of the family fortune. He called Leigh Anne "Mama" and Sean "Pops." Collins and S.J. were his siblings, and they believed it as much as he did. Michael, in response to people's reaction to his story—"They'd call sniffling and choking up and sometimes even sobbing"—didn't understand "why all these people are crying. They know the story's got a good ending!" (page 332). It is a good ending, even better because it's a true story. That this completely nonprejudicial love and adoption took place in real life is enough to bring tears to anyone with a soft heart.
As a picture of God's selfless love and the adoption we have as heirs to Christ's saving sacrifice, it should (and does) touch Christians in a very tender place in their hearts. Just like Michael, we have been raised from a poverty of spirit and become heirs to a spiritual fortune just because we were loved unconditionally. Even when we represent challenges to God's will, we are loved. Even when we wander/run away, get into trouble, and even lose our way, God still loves us. The Touhy's love for Michael Oher is an imperfect portrait of how God loves us. At least for me, that's why the story brings tears to my eyes. I have also experienced that amazing love in my life.
Conclusion
There is much more in The Blind Side (book) that I could discuss: an extensive theme of racism and poverty that runs from the beginning all the way to the end; political themes touching on conservatism vs liberalism, Republican against Democrat, the position of gays in the church, and, of course, football—which I'm sure someone who loves and follows the sport religiously could draw Christian parallels. I may write more on one or more of these themes, but I'd like to hear what you thought about the book or movie. Did it make you cry? Did it touch you in some meaningful way? What do you think the story represents?
If you enjoy my writing, please follow me on Twitter .