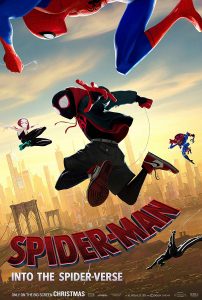 Spider-Man: Into the Spider-Verse introduces us to Miles Morales, eighth grade student at the Visions Academy in Brooklyn. We are along for the ride as he discovers the shoes that he has to fill require him to walk on walls. Eve and I view this animated para-MCU entry into the Marvel movie market through the lens of Christian critical thinking to discuss its questions, answers, messages, and meanings.
Spider-man: Into the Spiderverse is a very creative, animated movie directed by Bob Persichetti, Peter Ramsey, and Rodney Rothman. The heavy industrial-rhythm score is by Daniel Pemberton.
Initial Reactions
Miles Morales is not Peter Parker, and that might throw some people off. Depending on where your Spider-Man exposure comes from, you may not be receptive to a new alter ego for our favorite web-slinger. If you, like Eve, are a Peter Parker purist, this movie does an amazing job passing the Spider-Man torch. The Spider-Verse experience really felt truly unique and thoroughly entertaining. The style of animation, rather than being jarring, actually becomes mortar holding the creative bricks together. It allows a significantly broadened range of creativity for each of the Spider-people. Each Spider-character has its own, unique style and personality with matching animation style.
Miles is Everyman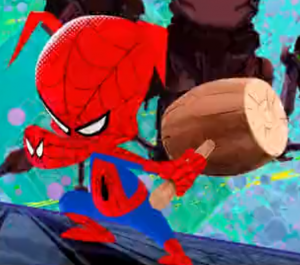 Spider-Verse has a couple of themes that it is not terribly subtle with. As a matter of fact, it sort of beats the audience over the head with a cartoon hammer with this first one.
Miles Morales is a stand in for the classic Everyman and becomes a metaphor for all people. He is every bit the typical young teenage boy; humming words he doesn't know . . . doesn't like being special. Basically, anyone can see themselves, at least a little, in the person of Miles Morales. He makes mistakes with consequences that range from humorous to tragic. Yet, no matter the circumstances of his situation, he is never outside the story, just as we are never outside the heart of God:
Aren't five sparrows sold for two pennies? Yet not one of them is forgotten in God's sight. Indeed, the hairs of your head are all counted. Don't be afraid; you are worth more than many sparrows." (Luke 12:6-7)
As Christians, we may find ourselves in difficult circumstances. Indeed, the Deceiver wants it to be hard for us to do the right thing. We must remember, though, that we are never where we are outside of God's will.
The Bible gives us an Everyman as well:
Thus it is written, "The first man Adam became a living being"; the last Adam became a life-giving spirit. But it is not the spiritual that is first but the natural, and then the spiritual. The first man was from the earth, a man of dust; the second man is from heaven. As was the man of dust, so also are those who are of the dust, and as is the man of heaven, so also are those who are of heaven. Just as we have borne the image of the man of dust, we shall also bear the image of the man of heaven." (1 Corinthians 15:45-49)
Miles's journey shows us that he must wear the mask and stand in for all New Yorkers against super-villains. This is similar to how Adam represented all of humanity through the fall and Jesus took on all sin in his death on the cross.
Can You Get Back Up?
The second theme is slightly less pounding, but persistent nonetheless. "Above all, no matter how many times you get hit, can you get back up?" This plucky persistence is as much a defining characteristic of Spider-Man as is his witty fighting banter. This, too, speaks directly to our Christian experience. No matter how many times we fail, no matter how many times we make a face plant with our faith (is that a faith-plant?), we need to get back up. Not only do we need to get back up, but we need to jump right back up into the battle.
Though a righteous person falls seven times, he will get up, but the wicked will stumble into ruin." (Proverbs 24:16)
We are afflicted in every way but not crushed; we are perplexed but not in despair; we are persecuted but not abandoned; we are struck down but not destroyed." (2 Corinthians 4:8-9)
Origin Stories
A universal element of every Spider-person's origin story is the loss of a loved one, coupled with the idea that the hero should have been able to stop it. Spider-Ham delivers the moral of this portion of the story, "The hardest thing about this job is you can't always save everybody." Loss is a part of everyone's origin story, "good" and "bad" people alike. Loss is something that Christians not only face, but embrace when we choose to follow Christ. When we become Christians, we have a new origin story:
For we know that our old self was crucified with him so that the body ruled by sin might be rendered powerless so that we may no longer be enslaved to sin," (Romans 6:6)
And everyone who has left houses or brothers or sisters or father or mother or children or lands, for my name's sake, will receive a hundredfold and will inherit eternal life." (Matthew 19:29)
"If anyone comes to me and does not hate his own father and mother, wife and children, brothers and sisters—yes, and even his own life—he cannot be my disciple. Whoever does not bear his own cross and come after me cannot be my disciple." (Luke 14:26-27)
Normal Evil

I lead Eve down a quick rabbit trail and express concern over what I perceived as a trend to make evil "not all that bad". Along the way, we get into a discussion wondering if the perpetrators of evil know that they are.
They show that the work of the law is written on their hearts. Their consciences confirm this. Their competing thoughts either accuse or even excuse them. (Romans 2:15)
In their case, the god of this age has blinded the minds of the unbelievers to keep them from seeing the light of the gospel of the glory of Christ, who is the image of God. (2 Corinthians 4:4)
Maybe this is a line between the sinner and the truly, maliciously evil: knowing and eager opposition to God. Or, you may disagree, like Eve.
Leap of Faith
The concept of a "Leap of Faith" is common in all types of stories. It's an important lesson, just as portrayed in Spider-Verse. The single most important part of it, though, is in whom do you place your faith? Is it in the will of humanity, like in the movie Interstellar? Is it in the guidance of your heart?
God is our refuge and strength, a helper who is always found in times of trouble.  Therefore we will not be afraid, though the earth trembles and the mountains topple into the depths of the seas,  though its water roars and foams and the mountains quake with its turmoil. Selah" (Psalm 46:1-3)
Faith in God is the only faith that offers any real assurance. That assurance is so profound that we need not even worry where our feet will land. When our faith is in God, He will ensure our feet fall on solid ground:
For we walk by faith, not by sight." (2 Corinthians 5:7)
Now without faith it is impossible to please God, since the one who draws near to him must believe that he exists and that he rewards those who seek him." (Hebrews 11:6)
A leap of faith can be liberating. It can be a growth experience unlike any other. Just make sure it is faith in the only thing deserving of it: God, the Creator of all things.
Special Note: Are You Just Watching has lost its network.
Our original network, Noodle Mix has shut down, and Are You Just Watching? is now on its own. We've lost our life vest and are into the deep end now. This means we are even more dependent on the support of our viewers than we have ever been before. If you can find it in your heart to do so, please consider supporting us through Patreon. 100% of all funds received go towards the podcast—neither Eve nor I receive any compensation for what we do here. If you enjoy the podcast or agree that what we do is important, please consider helping to support our efforts.
Please support the podcast!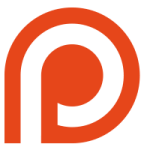 Are You Just Watching? is listener supported. Special thanks to our current patrons: Craig Hardee, Stephen Brown II, and Peter Chapman for their generous support. We can't continue to share critical thinking for the entertained Christian without your financial help, so please head on over to our Patreon page and become one of our supporting patrons!
Share your feedback!
What did you think of Spider-Man: Into the Spider-Verse? We would like to know, even if just your reactions to the trailer or the topics we shared in this episode. Or what general critical-thinking and entertainment thoughts or questions do you have? Would you like to suggest a movie or TV show for us to give a Christian movie review with critical thinking?
Please connect with us