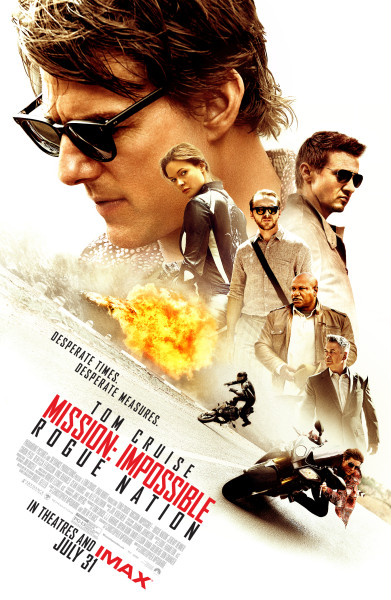 The Impossible Mission Force is back in action facing off against their most dangerous foe yet: an organization that does everything they do, but for EVIL. In Mission: Impossible – Rogue Nation, regulars Tom Cruise, Simon Pegg, Jeremy Renner and Ving Rhames are joined by femme fatale Rebecca Ferguson in a solid globe trotting series of—you guessed it—Impossible Missions.
Spoiler free section
The Mission: Impossible franchise, at its heart, is an ensemble story of how a team of dedicated and talented people can perform seemingly impossible feats through sheer determination. While the films must grant screen time based of the realities of actor popularity (leading to a great deal more of Cruise-oriented screen time), Mission: Impossible – Rogue Nation makes a respectable attempt to stay true to the team-based roots.
Like many movies of the genre, trust is a luxury that neither the characters nor the viewers can afford. Beyond the [mostly] unshakable loyalty of the core team, the motivations and goals of every other character in the film are kept from the viewer until the last possible moment.
The movie brings back many of the iconic methods of the original series and subsequent films like the original Mission: Impossible theme song by Lalo Schifrin (Note: Tim misidentifies the theme as The Peter Gunn theme by Henry Mancini, but that is a different song entirely!) It also reprises the "what-if" sequences which fit nicely with the story. This soundtrack was by Joe Kraemer and featured the M:I theme plus the aria from Puccini's Turandot.

Mission: Impossible – Rogue Nation is rated PG-13 and relatively tame, particularly given the propensity for Hollywood to push the limits of decency. We encourage you to head on over to  PluggedIn to read their review of the movie and get a solid handle on the family friendly aspects.
"I can neither confirm nor deny . . ." these spoilers
Teamwork
Heist stories excel at the use of teamwork, and can be a powerful example when it in consideration of how believers work together as the Body of Christ, leveraging different talents and gifts to accomplish great things. When a team sets a goal and works toward it, it is exponentially easier to achieve.
There is an interesting parallel here that all the agents of the Syndicate are supposed to have died, permitting them to achieve a new life as members of the Syndicate, leading us to Romans 6:6.
We know that our old self was crucified with him in order that the body of sin might be brought to nothing, so that we would no longer be enslaved to sin. (Romans 6:6)
Impossible Wordplay
The core element of the Impossible Mission Force is that they are called upon to do what others have deemed impossible, and that gives the storytellers a fair amount of leeway in defining impossible as a moving target.  Even as they recount the impossible things they have done, they seem to question how they could have pulled it off. But they did, and the reason they have been able to manage all this miraculous action in the past is due, to no small amount, to the faith that the team has in their leader and teammates. In general terms, scripture defines the impossible as possible through Him who made us.
"For nothing will be impossible with God." (Luke 1:37)
"And Jesus said to his disciples, "Truly, I say to you, only with difficulty will a rich person enter the kingdom of heaven. Again I tell you, it is easier for a camel to go through the eye of a needle than for a rich person to enter the kingdom of God." When the disciples heard this, they were greatly astonished, saying, "Who then can be saved?" But Jesus looked at them and said, "With man this is impossible, but with God all things are possible." (Matthew 19:23-26)

Jesus, seeing that he had become sad, said, "How difficult it is for those who have wealth to enter the kingdom of God! For it is easier for a camel to go through the eye of a needle than for a rich person to enter the kingdom of God." Those who heard it said, "Then who can be saved?" But he said, "What is impossible with man is possible with God." (Luke 18:24-27)

And Jesus looked around and said to his disciples, "How difficult it will be for those who have wealth to enter the kingdom of God!" And the disciples were amazed at his words. But Jesus said to them again, "Children, how difficult it is to enter the kingdom of God! It is easier for a camel to go through the eye of a needle than for a rich person to enter the kingdom of God." And they were exceedingly astonished, and said to him, "Then who can be saved?" Jesus looked at them and said, "With man it is impossible, but not with God. For all things are possible with God." (Mark 10:23-27)
He said to them, "Because of your little faith. For truly, I say to you, if you have faith like a grain of mustard seed, you will say to this mountain, 'Move from here to there,' and it will move, and nothing will be impossible for you." (Matthew 17:20)
Stereotypes and Symbolism
Despite the negative connotations in today's American culture, storytellers depend on stereotypes to fill the characters who are not important enough to warrant the exposition time. We see these in scripture that Christ not only draws on the stereotype to provide emphasis to the Gospel, but God demonstrates their use many times, like with the idea of Matthew the tax collector or the shepherds being the first outsiders to received the Gospel. While there are other examples, we are reminded that the Lord sees the heart where man relies on stereotypes:
When they came, he looked on Eliab and thought, "Surely the Lord's anointed is before him." But the Lord said to Samuel, "Do not look on his appearance or on the height of his stature, because I have rejected him. For the Lord sees not as man sees: man looks on the outward appearance, but the Lord looks on the heart." (1 Samuel 16:6-7)
While Hollywood is often heavy handed with the symbolism, Tim didn't quite find it where he expected to. If you'd like to know more about Puccini's Turandot and see if you can pick out what he failed to, you can get a synopsis here.
The Greater Good
The conflict between godliness and loyalty is not a new one. Many of the founding fathers of the United States thought and wrote on the subject while several preachers came down on both sides of the discussion, all while supporting their views with God's word.
Be subject for the Lord's sake to every human institution, whether it be to the emperor as supreme, or to governors as sent by him to punish those who do evil and to praise those who do good. For this is the will of God, that by doing good you should put to silence the ignorance of foolish people. Live as people who are free, not using your freedom as a cover-up for evil, but living as servants of God. Honor everyone. Love the brotherhood. Fear God. Honor the emperor. (1 Peter 2:13-17)
Rogue Nation brings that question back to the forefront as they resist orders to shut down their division by none other than the United States Senate while fighting the good fight against an evil that only they seem to believe in. Rogue Nation makes good use of this concept, but for us, it really stuck out that to resist the authorities of man, which God has placed over us, it requires a belief and devotion to a powerful truth—and this is something that is a hard sell in the world of constant deception. In the end, it comes down to where the loyalty lies and where the anchor holds. As believers, our loyalty must lay with our Lord and Savior.
And when they had brought them, they set them before the council. And the high priest questioned them, saying, "We strictly charged you not to teach in this name, yet here you have filled Jerusalem with your teaching, and you intend to bring this man's blood upon us." But Peter and the apostles answered, "We must obey God rather than men. The God of our fathers raised Jesus, whom you killed by hanging him on a tree. God exalted him at his right hand as Leader and Savior, to give repentance to Israel and forgiveness of sins. And we are witnesses to these things, and so is the Holy Spirit, whom God has given to those who obey him." [Gamaliel, a teacher of the law said] "So in the present case I tell you, keep away from these men and let them alone, for if this plan or this undertaking is of man, it will fail; but if it is of God, you will not be able to overthrow them. You might even be found opposing God!" (Acts 5: 27-32, 38-39)
It is of particular note that throughout the movie, the actions of many of the characters are motivated by individual crises of faith. How wonderful for us that our salvation does not depend on the strength of our faith or the efficacy of our actions, but rather on the indomitable will of the Creator of All Things. No matter how much our faith may waver, no matter how often we fail in the eyes of God, the gift of salvation is based on the solid, unmovable rock of Christ.
Conclusion
Mission: Impossible – Rogue Nation was a nice solid movie that does a good job mixing the star power of Tom Cruise, the comic relief of Simon Pegg, and the every-man charm of Jeremy Renner. Any time you are surprised by the amount of time that passes when you finish a movie, that's a good sign. Rogue Nation is one of those experiences.
Finally, for a good chuckle, check out Jimmy Fallon's interview with Simon Pegg, where he discusses the seat heater prank.
Please support the podcast!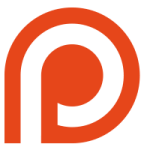 Are You Just Watching? is listener supported. Special thanks to our current patrons: Tim Martin, Craig Hardee, Richard French, and Stephen Brown II for their generous support. We can't continue to share critical thinking for the entertained Christian without your financial help, so please head on over to our Patreon page and become one of our supporting patrons!
Share your feedback!
What did you think of Mission: Impossible - Rogue Nation? We would like to know, even if just your reactions to the trailer or the topics we shared in this episode. Or what general critical-thinking and entertainment thoughts or questions do you have? Would you like to suggest a movie or TV show for us to give a Christian movie review with critical thinking?
Please connect with us