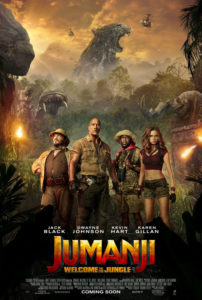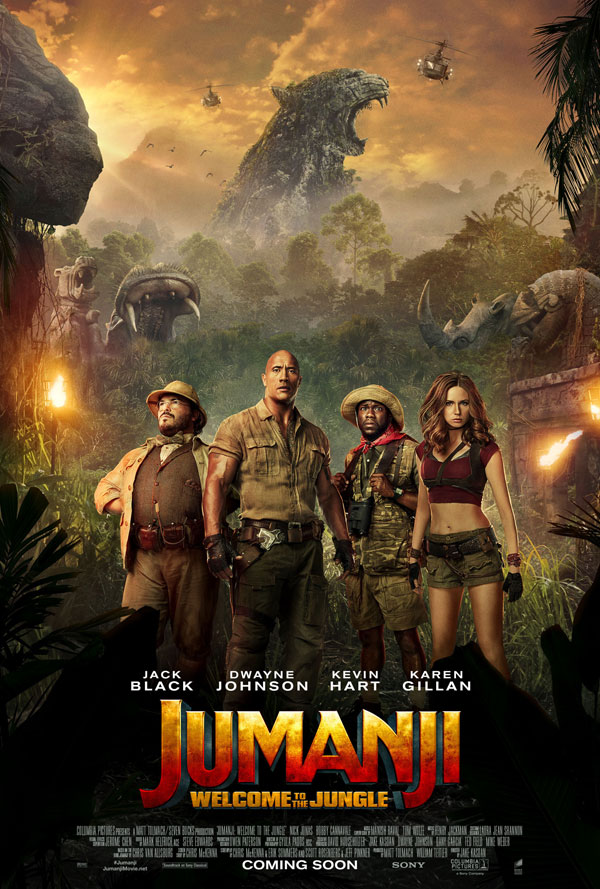 Get out your mosquito repellent! Eve and I head into the jungle with our discussion of Jumanji: Welcome to the Jungle. Director Jake Kasdan re-rolls the dice on the 1995 classic Robin Williams romp with the powerhouse cast of Dwayne Johnson, Kevin hart, Jack Black, Karen Gillan, and Nick Jonas. A newly modernized version of the mysterious board game Jumanji sucks in an assortment of troubled teens (are there any other kind in Hollywood?) where they become avatars and take on tasks that challenge them in new and different ways. The movie is ripe with opportunity to push a message, but do they? Is the film seeking to change us or simply entertain us?
Jungle Basics
Jumanji: Welcome to the Jungle contains a fair amount of language and sexual humor that is not appropriate for younger children. Even with young teens and older, it would be wise to discuss some of the inappropriate situations in the movie. The language and humor represent and draw attention to today's humor and social expectations and make a good springboard for deeper discussions on both. Focus on the Family's PluggedIn reviews provide a breakdown of both positive and negative elements in each movie. They also independently came to the same conclusions on the humor and language—they didn't even consult with us! Honest! Check it out.
The movie's score by Henry Jackman is good enough to seamlessly complete the movie without standing out. The absolutely beautiful in-game outdoor scenes were filmed in on Kualoa Ranch on Oahu in Hawaii.
What We Liked and Didn't Like
We both liked the ensemble cast of Johnson, Hart, Black and Gillan, though Gillan seemed a bit more lightweight when paired to the other three. Directing choices allowed the movie and story to walk a good line between the ridiculous plot of a video game and the reality of the characters.
While Jumanji was an enjoyable movie, and we both liked it, I personally felt like the presentation just missed its mark, a bit like a basketball shot that goes off the rim and not through the basket. In the end, the move was 85% movie fun and 15% message. I feel like they were going for a more balance between the two, but missed the mark. Eve holds that they hit the balance they were after; they wanted the message of the movie to strike a happy medium between subtle and bludgeoning.
Either way, we're happy with the final product.
The Morals of Story for Jumanji
Teamwork
A common message in the family movie sub-genre is the importance of teamwork. (It's so common that I'm personally starting to picture it as the proverbial dead horse.) Jumanji made a plot point out of the idea that the game could not be finished by the single character, and that each character had to contribute. In the end they had to work together to return the stone. Working together is an important life skill—and teamwork, like any other skill, is something that can be done poorly, well, or anywhere in between. Jumanji shows us that our differences not only do not prevent us from working as a team, but actually allow us to compliment each other's abilities.
For me, the characters of the movie worked together, sure. They brought skills to the table that worked well with each other, but I didn't feel like the characters ever jelled into an actual team, a la Band of Brothers. They learned teamwork, but never felt like a team to me.
Personal growth
The real-life teens behind the in-game avatars each came into the story with a different hangup: one was a narcissist, one obsessed with his football and social standing, one a shy, nearly militant desire to remain an introvert, and one intent on regaining a lost friendship (leading him to make some poor choices). Through the film, and the limitations and experiences in the avatar bodies, they learn to resolve these hangups through helping each other. Bethany learns some elements of altruism while Martha learns to exercises some self expression. Fridge and Spencer are able to rekindle their pre-high school friendship while reevaluating their priorities and making corrections to their respective courses.
The teens learn friendship, trust, self-reliance, teamwork, but how do these lessons learned compare to something like the fruits of the Spirit? Do all positive life lessons naturally extend from the fruits? Are there "positive life lessons" that are actually antithetical to Biblical principle? Indeed, that's common in Hollywood, isn't it? "Trust your heart." "Go with your gut." But Scripture tells us that we CAN'T rely on ourselves and please God.
God, help me to rely on YOU and not my own strength.
But the fruit of the Spirit is love, joy, peace, patience, kindness, goodness, faithfulness, gentleness, and self-control. The law is not against such things. (Galatians 5:22-23)
Courage
Through the course of living out his avatar's actions, Spencer must overcome a rather wide array of fears and phobias. This plays back into the same trope that Eve points out—Hollywood tells us the solution to fear—courage—is found within ourselves. But scripture tells us where our hope lies:
I lift my eyes toward the mountains. Where will my help come from?
My help comes from the Lord, the Maker of heaven and earth.
He will not allow your foot to slip; your Protector will not slumber. (Psalms 121:1-3)
One life to live (YOLO?)
Another recurring theme in Jumanji is the importance of living your life in a way that means something. Making the right choices, doing the right things. They lay the theme out early in the movie when the principal lectures the kids as they begin their collective detention sessions, "Well, this is a fun group. Welcome to detention. Spencer, Bethany, Fridge, Martha, you're all here for a reason. You should be thinking about who you are and who you want to be." Once sucked into the game, they initially have three lives, but even those are whittled down to one. When your last life—your only life—is tattooed on your arm as a constant, visual reminder, it becomes all the more precious. In this lesson, at least, the movie is spot on with scripture:
And just as it is appointed for man to die once, and after that comes judgment, so Christ, having been offered once to bear the sins of many, will appear a second time, not to deal with sin but to save those who are eagerly waiting for him. (Hebrews 9:27-28)
So we do have just one life, and we should be thinking about who we are, and who we want to be. But as Christians, we should know that our one life has a purpose, to live to the glory of God. In everything we do, we should be honoring God and pointing to Him. It is through this that we will accomplish what matters and gain our reward:
Do not lay up for yourselves treasures on earth, where moth and rust destroy and where thieves break in and steal, but lay up for yourselves treasures in heaven, where neither moth nor rust destroys and where thieves do not break in and steal. For where your treasure is, there your heart will be also. (Matthew 6:19-21)
Body swap humor or transgender agenda?
So, Eve and I are agreed that the gender swap of Bethany's character is not a subtle support of the LGBT movement, but it is the source of some of the more off color, puerile bathroom humor of the movie, as well as a brief inappropriate sexual bit near the end. Humor, it should be said, that the Jumanji could have done without. It was low hanging fruit of the comedy tree that really was pretty lazy writing. If they were going for a commentary on the lack of physical needs of video game characters, they could have put more work into it.
The short discussion regarding Jumanji and the transgender issue that Eve references in the Answers in Genesis video can be found at the 0:8:07 mark.  While it certainly is easily believable that such body-swapping humor could be used to subtly support the transgender movement, in this case, Eve and I are in agreement that Mr. Ham is mistaken in his characterization of that happening with Jumanji. We bring this up not to be disrespectful of Ken Ham, but to highlight how easy it is for well meaning believers to make unsupported off-the-cuff remarks. We need to be the beacons of truth, avoiding falsehoods of both intentional and unintentional varieties. Ed Stelzer wrote a poignant article to this very problem. As Christians "knowing enough to be dangerous" is a very real concern, when we pass that limited knowledge off as the whole truth.
Finally brothers and sisters, whatever is true, whatever is honorable, whatever is just, whatever is pure, whatever is lovely, whatever is commendable—if there is any moral excellence and if there is anything praiseworthy—dwell on these things. (Philippians 4:8)

Let no one deceive you with empty words, for because of these things the wrath of God comes upon the sons of disobedience. Therefore do not become partners with them; for at one time you were darkness, but now you are light in the Lord. Walk as children of light (for the fruit of light is found in all that is good and right and true), and try to discern what is pleasing to the Lord. (Ephesians 5:6-10)
Dealing with grief
While it really represents a small element in the movie, it is important to take a moment to consider the Vreek house. At the beginning of the movie, Alex Vreek becomes trapped in the Jumanji game for 20 years. The pre-Jumanji completion timeline, Alex's father has been in self-destructive mourning the entire time. Through the state of the house, we have a window into Mr. Vreek's grief stricken state of mind, and it is rotten. Upon the completion of the game's objective, when the teens return to real life, Alex returns to his own time and all the negative elements of history caused by Alex's disappearance disappear. The house is pristine when the main ensemble of teens walk by it, just as Alex arrives to visit his father, perfect family—and Christmas tree—in tow.
We cannot focus on the pain and troubles of this life—particularly those caused by our being followers of the Way. We need to remember that we work towards eternal life:
And everyone who has left houses or brothers or sisters or father or mother or children or lands, for my name's sake, will receive a hundredfold and will inherit eternal life. (Matthew 19:29)
Where to Go From Here (for Jumanji)?
Why does Jumanji do what it does? Is it some kind of intelligence? Does it have benign or malicious intentions? Is it magical? After all, the game morphs into a video game when its "mark" sets aside the Jumanji board game in favor of his video game. Setting aside if the ultimate motives of the game are good or evil, is there any similarity to how Satan specifically and temptation in general change to best mislead believers? In the end, have the game's players changed for the better after playing the game? Given that Jumanji must be played—for whatever reason—how will it evolve to lure in the next set of players?
Please support the podcast!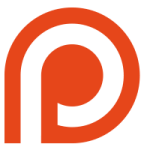 Are You Just Watching? is listener supported. Special thanks to our current patrons: Amanda John, Craig Hardee, Richard French, and Stephen Brown II for their generous support. We can't continue to share critical thinking for the entertained Christian without your financial help, so please head on over to our Patreon page and become one of our supporting patrons! As a benefit of her support of AYJW, Amanda John wishes us to promote 2ndvote.com, a conservative watchdog for coorperate activism.
Share your feedback!
What did you think of Jumanji: Welcome to the Jungle? We would like to know, even if just your reactions to the trailer or the topics we shared in this episode. Or what general critical-thinking and entertainment thoughts or questions do you have? Would you like to suggest a movie or TV show for us to give a Christian movie review with critical thinking?
Please connect with us