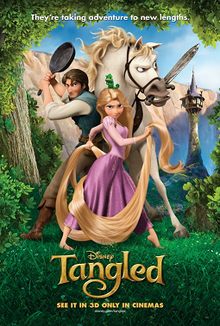 Disney returns to it's classic-style with it's fiftieth feature-length cartoon Tangled, a computer-animated film based on the classic German fairytale of Rapunzel complete with Disney's musical animations, which families have known for years. Tangled is adventurous, romantic, and a lot of fun to watch, and also raises a few discussion points on magic, eternal life, rebellion, the world, dreams, fate, and the power of love.
Please support our content
We have expenses for our podcasts. Please look at these options for how you can support us by supporting our sponsors (or outright hiring Daniel to design stuff for you).
Make your message look great by hiring Daniel to personally design your website, presentation, podcast cover art, and more! Visit D.Joseph Design to view his portfolio and request an estimate.
Spoiler-free Tangled review
I took my wife with me to see Tangled and we both thoroughly enjoyed it. It stars some great voices, Mandy Moore as Rapunzel and Zachary Levi (from one of my favorite TV shows, Chuck
) as Flynn. Knowing who was behind Flynn's voice gave me a new appreciation for how great Zachary Levi's voice is.
Tangled, being Disney's fiftieth animated film, goes back to "classic Disney" style with its musical retelling of a classic fairytale. Disney even brought back Alan Menken (composer of many of Disney's musicals) to score the soundtrack. Watching Tangled reminded me of my childhood, filled with catchy Disney songs. Tangled fits in nicely.
Disney took liberty on the classic Rapunzel fairytale, but I thought that was okay. There are no talking animals, but the horse and chameleon do get a fair share of personality, also adding to the comedy of Tangled. The animation quality was excellent and the story-telling was easy to follow and a pleasure to watch. But it's no wonder since Disney has Pixar's John Lassiter as senior producer (that guy knows how to tell a story!).
I think Tangled is appropriate for the whole family with very little magic and mild violence. If you want a thorough review of its family friendliness, read PluggedIn's post. If you see Tangled, we would love to hear your thoughts! Comment here on the shownotes, email feedback@AreYouJustWatching.com, or call (903) 231-2221.

Warning: the remainder of these shownotes and podcast contain spoilers. If you don't want Tangled to be spoiled, stop now and please come back later.
Magic and eternal life
Most Disney movies revolve around magic—good and bad (Cinderella, Snow White and the Seven Dwarfs, The Little Mermaid, The Princess and the Frog
(Disney's darkest movie, in my opinion), and more). Tangled has surprisingly little magic to it—just the magic flower and the healing power of Rapunzel's hair. Rapunzel's hair didn't just heal; being a product of the magic rapunzel flower, continuous use of Rapunzel's hair, activated by her singing, would even grant eternal life, so long as one had access to Rapunzel's hair and song. Eternal life (as well as eternal punishment) is only God's to grant.
"For God so loved the world, that He gave His only begotten Son, that whoever believes in Him shall not perish, but have eternal life." (John 3:16)
"The outside world is a dangerous place"
These words spoken by the evil witch Gothel, were scare-tactics to keep Rapunzel from wanting to get out of her tower (more like her prison). Gothel was greedy for the healing power of Rapunzel's magical hair. However, Rapunzel comes to quite a different opinion by the end of Tangled. She sees good in the world, including a bar full of thugs. Scripture makes it clear that the world is a dangerous place.
"The heart is more deceitful than all else and is desperately sick; who can understand it?" (Jeremiah 17:9, NASB)
And just as they did not see fit to acknowledge God any longer, God gave them over to a depraved mind, to do those things which are not proper, being filled with all unrighteousness, wickedness, greed, evil; full of envy, murder, strife, deceit, malice; they are gossips, slanderers, haters of God, insolent, arrogant, boastful, inventors of evil, disobedient to parents, without understanding, untrustworthy, unloving, unmerciful; and although they know the ordinance of God, that those who practice such things are worthy of death, they not only do the same, but also give hearty approval to those who practice them. (Romans 1:28–32, NASB)

Now the deeds of the flesh are evident, which are: immorality, impurity, sensuality, idolatry, sorcery, enmities, strife, jealousy, outbursts of anger, disputes, dissensions, factions, envying, drunkenness, carousing, and things like these, of which I forewarn you, just as I have forewarned you, that those who practice such things will not inherit the kingdom of God. (Galatians 5:19–21, NASB)
But this is no reason to be afraid of the world or lock ourselves in a tower away from it all.
And do not be conformed to this world, but be transformed by the renewing of your mind, so that you may prove what the will of God is, that which is good and acceptable and perfect. (Romans 12:1, NASB) "They are not of the world, even as I [Jesus] am not of the world." (John 17:16, NASB)
Our power against the world is from Jesus Christ.
… greater is He who is in you than he who is in the world. (1 John 4:4b, NASB) "These things I [Jesus] have spoken to you, so that in Me you may have peace. In the world you have tribulation, but take courage; I have overcome the world." (John 16:33, NASB)
Rebellion
Although not a rebellion-encouraging film like many other kids' movies tend to be, "a little rebellion" is called "healthy" by Flynn. Although this rebellion was in reference to the evil witch Gothel, we must remember that Rapunzel grew up with Gothel being her mother, albeit by an act of kidnapping.
"For rebellion is as the sin of divination, and insubordination is as iniquity and idolatry." (1 Samuel 15:23, NASB)
Scripture has never taught that we should rebel against authority (even ungodly authority), which is a hard concept for many Christians to accept.
"Honor your father and your mother, that your days may be prolonged in the land which the LORD your God gives you." (Exodus 20:12, NASB) Every person is to be in subjection to the governing authorities For there is no authority except from God, and those which exist are established by God. (Romans 13:1, NASB)
The power of love
Flynn was a greedy, betraying thief who was forced by Rapunzel to be her guide, with the promise of returning his stolen goods. However, he begins to fall in love with Rapunzel, even to the point of sacrificing the priceless crown he had stolen so that he could spend his life with Rapunzel. Love had transformed him. Flynn said that Rapunzel was "a princess worth waiting for." Indeed, true love waits (albeit can be quite eager). Through Rapunzel's love for Flynn, she forgave him of his wrong.
[Love] does not take into account a wrong suffered. (1 Corinthians 13:5b, NASB) Above all, keep fervent in your love for one another, because love covers a multitude of sins. (1 Peter 4:8, NASB)
Fate and "live your dream"
What brought Flynn to Rapunzel? She thinks it was "fate" and part of pursuing her dream.
Whatever you do, do your work heartily, as for the Lord rather than for men, knowing that from the Lord you will receive the reward of the inheritance. It is the Lord Christ whom you serve. (Colossians 3:23–24, NASB) "Do not store up for yourselves treasures on earth, where moth and rust destroy, and where thieves break in and steal.But store up for yourselves treasures in heaven, where neither moth nor rust destroys, and where thieves do not break in or steal; for where your treasure is, there your heart will be also." (Matthew 6:19–21, NASB)
What did you think?
What did you think of Tangled? Comment on the shownotes, email feedback@AreYouJustWatching.com (audio feedback welcome), or call (903) 231-2221. You can also follow Daniel and Eve on Twitter. Please join our Facebook Page and don't forget to leave us some five-star reviews in iTunes! Are You Just Watching?™ is produced and sponsored by D.Joseph Design. The opening vocal talent is thanks to Mariah. Our theme song is used courtesy of Answers in Genesis, from their exciting vacation Bible school curriculum, Operation Space.
Nominate us on PodcastAwards.com
Please nominate the Noodle.mx Network of podcasts for the sixth annual Podcast Awards. Here are the basics, but for more details, read and listen to our announcement.
TRON: Legacy poster giveaway
We're giving away some really cool posters for TRON: Legacy. To enter, simply subscribe to our email newsletter from the bottom of any webpage on Noodle.mx.