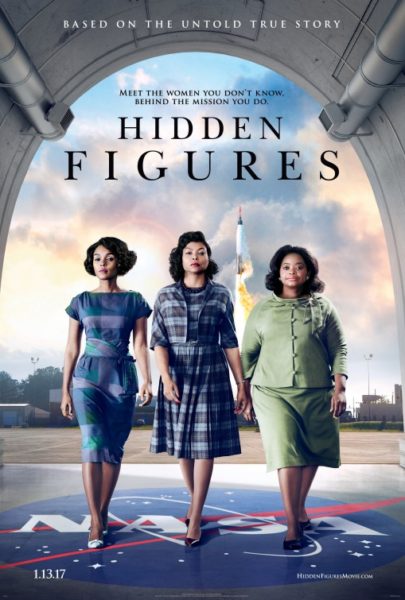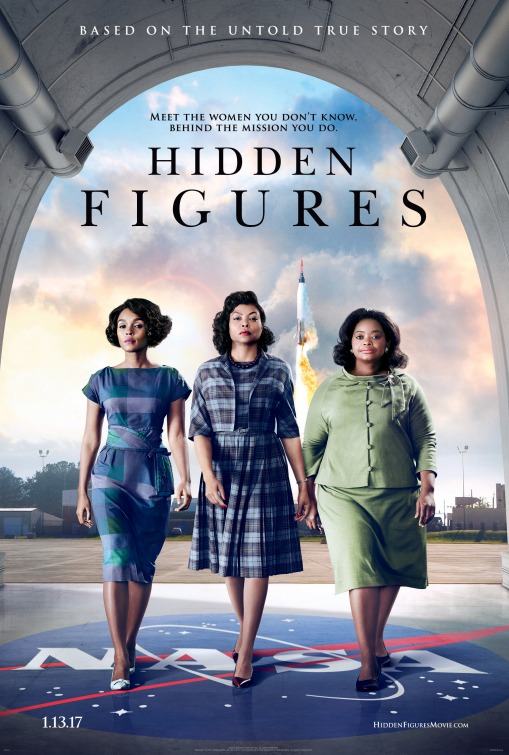 Before Martin Luther King had a dream and Malcom X met with Fidel Castro at the United Nations, there was an unseen movement in the progress of racial and gender equality. It was in a place where you might never expect it: the United States government's National Aeronautics and Space Agency, better known as NASA. Hidden Figures is among the first to bring a portion of that progress to the big screen, and Eve and I had the distinct pleasure of reviewing the movie and its messages through our Christian worldview. 
I personally didn't want to see the movie, believing it would be saturated with pointed blame and racist and bigoted stereotypes. And you want to know something? I was very, very wrong. (Eve was right, but don't tell her I said that!) There is almost nothing in Hidden Figures that doesn't seek to lift up our spirits and demonstrate the capacity for good within every single person involved in the events of the movie.
Hidden Figures is based on the non-fiction book of the same name by Margot Lee Shetterly, and tells the story of three young African American women who worked as human computers for NASA during the push towards the orbital flight of Friendship 7. Each face unique challenges brought on by their race, their gender, or both. The movie tells the story of how they face these challenges with class and style, focusing on the good that they can do rather than the injustice being done to them. Along the way, we are treated to the growth of several secondary characters as well, and through our sympathy with them, we have the opportunity to grow with them. While not quite historically accurate (some of the dates and people have been fudged a bit for creative reasons), the message of these three women is front and center.
The movie is directed by Theodore Melfi and the score is composed by Hollywood powerhouse Hans Zimmer, with original musicby Hampton Roads native Pharrell Williams.
NASA is frequently asked why they've been hiding the story of Katherine Johnson, Dorothy Vaughan, and Mary Jackson for so long, but the truth is that they haven't. According to NASA's Frequently Asked Questions page, "Like many other great stories of NASA employees, NASA has been sharing this story for years. In fact, the author of the book, Margot Lee Shetterly, has noted the title is "something of a misnomer." The women at the center of the story were not so much hidden as unseen."
Eve and I thoroughly enjoyed Hidden Figures, but make sure you check out PluggedIn's review. As always, they breakdown the positive and negative elements with almost no spoilers, allowing readers to be well informed before going in.
Welcome to Hollywood . . . East
Hidden Figures is expertly filmed at several locations in and around Atlanta, Georgia. Using locations like Morehouse College, Lockheed Martin, and the Clay National Guard Armory, the filmmakers recreate early 1960's rural south with engrossing accuracy. They even filmed in one of only 10 remaining period wind tunnels to ensure immersion in the era.
Historical Facts
The story told in Hidden Figures lasts less that 2 years, from 1961 to 1962, but the events featured in the movie actually span closer to 10 years. They also all happen before the Civil Rights Act of 1964 (but after some key events like Brown vs. the Board of Education), so it was a time of legal racism; a situation that many of us cannot reasonably wrap our minds around. While the movie tells a great story, they made several, arguably necessary, changes from actual history in order to maintain story flow and fit all the plots into the frame of the movie. Here are a few of them differences:
NASA wasn't founded until 1958, after the Soviet launch of Sputnik. It was formed from several different government entities, but the main one was the National Advisory Committee for Aeronautics (N.A.C.A.). The N.A.C.A. was much further along in both race and gender equalization than many places.
Mary Jackson actually became NASA's first black female engineer in 1958, three years before the time depicted in the film.
Katherine Johnson started working for the N.A.C.A. team back in 1953, joining the Space Task Group in 1958 as an aerospace technologist.
The West Computer Building was abolished in 1958 when NASA was founded, and the black computers were integrated with the rest of NASA.
John Glen did request that Katherine Johnson verify his launch numbers against the results of the IBM main frame, but it wasn't while Glenn was sitting on the launch pad. In reality, it took her a day and a half to perform all the calculations necessary for Glen's flight.
Composite Characters
The team behind the Mercury 7 and all their flights leading up to the Apollo missions would have been thousands of people strong, but it's hard to tell a story when you have too many characters. Three of the main secondary characters from Hidden Figures are actually composites of several different people that had intersected with the lives of the three heroines:
Kevin Costner's Al Harrison was based heavily on Robert C. Gilruth, the first director of the Johnson Space Center, but there were so many managers involved in the process depicted in the film that they really needed to compress them all into a composite character.
Jim Parsons played Paul Stafford, the lead engineer under Al Harrison, but Paul's character represented the hundreds of engineers that worked on the Mercury project from start to finish.
Kristen Dunst's character, Vivian Mitchell, was the most composite of all the composite characters. She represented the attitudes of the "white" women who would have worked at NASA during that era.
Triumphs
Common Goal: Hidden Figures in particular, and the Mercury and Apollo projects in general, demonstrate how working towards a common goal can bring people together despite differences that might otherwise be considered insurmountable. In Hidden Figures, character interaction really shows how a nationalistic pride and determination to beat the Soviet Union allowed people to set aside racism and bigotry.  Interestingly, the very idea of nationalism has grown more and more negative over the last few decades. Some even equate nationalism to imperialism.
Foresight: Dorothy Vaughn, when faced with replacement by the new IBM for both her and her charges doesn't simply accept her fate and wait for the end to come. Rather, she sets her sights on the future and takes definitive action to position herself—and her team—to be instrumental in the next stage of computing; in this case as programmers and staff supporting the huge IBM mainframes of the early 1960's. She acknowledged the problem, identified the cause and took action to educate herself past the gap that would otherwise leave her human computers behind. This kind of foresight is a rare thing, even in today's society, where technology seems to be moving so much faster:
This dedication is an example of how Christians should be stewards of our talents, both fiscal and mental:
Desire without knowledge is not good, and whoever makes haste with his feet misses his way. (Proverbs 19:2)

The plans of the diligent lead surely to abundance, but everyone who is hasty comes only to poverty. (Proverbs 21:5)
Overcoming Cultural Racism: Throughout the movie, there is an undercurrent of triumph as the casual and cultural racist and bigoted attitudes of all the characters are challenged and defeated by the perseverance and respect demonstrated by our heroines. This happens for many of the characters, but the most heartwarming was the respect that Vivian shows Dorothy when she brought Dorothy her promotion and called her, "Mrs. Vaughn." At the same time, Hidden Figures did a respectable job at showing how pervasive and accepted the racism was. This really helped to make the victories of the main characters all the sweeter.
"We Shall Overcome": The main characters of Hidden Figures (and the real people they represent) don't pursue change through aggressive or violent means, or by playing the victim card and complaining until someone capitulates just to quiet them. They forge ahead through ability, determination, and perseverance. This is a lesson that we can all benefit from. The way in which the women of Hidden Figures handle the challenges they face remind us of Christ's Sermon on the Mount, in a lesson that we can all bear to be reminded of, time and time again:
Seeing the crowds, he went up on the mountain, and when he sat down, his disciples came to him.
And he opened his mouth and taught them, saying: "Blessed are the poor in spirit, for theirs is the kingdom of heaven. Blessed are those who mourn, for they shall be comforted. Blessed are the meek, for they shall inherit the earth. Blessed are those who hunger and thirst for righteousness, for they shall be satisfied. Blessed are the merciful, for they shall receive mercy. Blessed are the pure in heart, for they shall see God. Blessed are the peacemakers, for they shall be called sons of God. Blessed are those who are persecuted for righteousness' sake, for theirs is the kingdom of heaven. Blessed are you when others revile you and persecute you and utter all kinds of evil against you falsely on my account. 12 Rejoice and be glad, for your reward is great in heaven, for so they persecuted the prophets who were before you. (Matthew 5:1-11)
"…condemned to repeat it": In 1905's Reason in Common Sense, George Santayana wrote, "Progress, far from consisting in change, depends on retentiveness. When change is absolute there remains no being to improve and no direction is set for possible improvement: and when experience is not retained, as among savages, infancy is perpetual. Those who cannot remember the past are condemned to repeat it."
Hidden Figure's portrayal of all the aspects of racism and bigotry can help whole new generations gain understand into the impact of racism. Young people who perhaps have no direct experience with the kind of senseless and rampant racism that was prevalent in the mid 20th century can gain a very small measure of understanding from these reminders that we once forced people to use other drinking fountains, restrooms, and even coffee pots simply because they had a different shade skin. Like all plagues of mankind, racism is a product of fallen creation. We are all image-bearers and deserve equal respect and treatment.
Conclusion
Hidden Figures is a movie about the perseverance and triumph of three "unseen" women from American History. This skillfully told story enables us to both share in their quiet success yet be gently chastised for our corporate sinful nature, regardless of our race or gender. Katherine Johnson, Dorothy Vaughan, and Mary Jackson show us that, even when faced with overwhelming resistance, righteous determination can see us through. This is a lesson that applies in so many areas of our lives, both great and small. This is a lesson that God's word teaches as well:
16 In all circumstances take up the shield of faith, with which you can extinguish all the flaming darts of the evil one; 17 and take the helmet of salvation, and the sword of the Spirit, which is the word of God, 18 praying at all times in the Spirit, with all prayer and supplication. To that end, keep alert with all perseverance, making supplication for all the saints, 19 and also for me, that words may be given to me in opening my mouth boldly to proclaim the mystery of the gospel, 20 for which I am an ambassador in chains, that I may declare it boldly, as I ought to speak. (Ephesians 6:16-20)
Please support the podcast!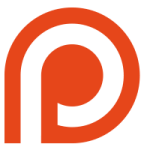 Are You Just Watching? is listener supported. Special thanks to our current patrons: Amanda John, Craig Hardee, Richard French, and Stephen Brown II for their generous support. We can't continue to share critical thinking for the entertained Christian without your financial help, so please head on over to our Patreon page and become one of our supporting patrons! As a benefit of her support of AYJW, Amanda John wishes us to promote 2ndvote.com, a conservative watchdog for coorperate activism.
Share your feedback!
What did you think of Hidden Figures? We would like to know, even if just your reactions to the trailer or the topics we shared in this episode. Or what general critical-thinking and entertainment thoughts or questions do you have? Would you like to suggest a movie or TV show for us to give a Christian movie review with critical thinking?
Please connect with us