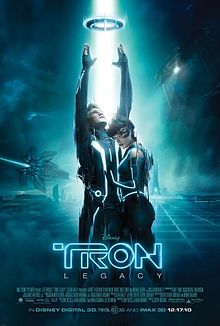 Tron: Legacy could possibly be the biggest movie on 2010. I remember watching the original Tron over and over again when I was a kid. I've seen exclusive preview clips of Tron: Legacy and can tell you that it will be amazing!
To celebrate this huge event, I will be giving away one or maybe a couple Tron: Legacy posters as pictured here. To enter this contest, simply subscribe to the Noodle.mx Network newsletter in the website's sidebar or at the bottom (footer) of Noodle.mx by Thanksgiving, November 25, at 11:59 p.m. (ET).
After Thanksgiving, I will randomly select a winner among the subscribers and ship the poster for free so you can hang it on your wall before the big premiere, or maybe wear it when you see Tron: Legacy in the theater!
Depending on the number of entrants, I may give away more posters, so your chances of winning do not go down when more people subscribe!
Limitations and your privacy
This contest is limited to email subscribers in the United States of America, excluding Alaska and Hawaii.
Your privacy is important to me, so you have my personal promise that I will never sell your email address. Your inbox is also important to me, so unless something urgent comes up, you will not receive more than one email per week.