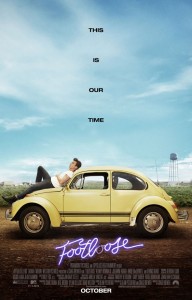 Warning: This episode contains a discussion of the controversial topic of dance.
Spoiler-free review
Footloose (2011) earns its PG-13 rating. There is violence and sexually suggestive behavior, lots of bare skin, drugs and drinking, and a lot of foul language. The movie also shows rebellious behavior on the part of teens, and teens back talking adults. I highly recommend that you read the PluggedIn review from Focus on the Family and/or view the movie yourself before allowing your children to see it. I do not recommend that teens be allowed to view the movie without some interaction with their parents before or after to discuss the ideas that they will be exposed to.
Footloose provides a lot of fodder for discussion from a Christian worldview. Not only does it portray small-town "Christian" living, but it quotes quite a lot of Scripture for a movie of its type. One of the main characters is a pastor, and the whole movie centers around legislating moral behavior in teens.
I understand that it is a faithful remake. Though I have not seen the original Footloose, I have been told this remake was very similar, but was better written and acted.
The rest of these podcast shownotes and the audio episode contain spoilers.
Blaming the sin, not the sinner
Footloose begins with a tragedy. Five teenagers are killed in an automobile accident coming home from a dance/party. The town in reaction passes several laws to "protect" the children in town. The laws include a curfew for all children under the age of 18 and a ban on public dancing among other things.
Pastor Moore addresses the town council, talking about protecting their children from a "world full of evil, temptation, and danger . . . . We cannot be missing from our children's lives."
The next time we see Pastor Moore, he is giving a sermon against "progress," saying that technology makes people tune each other out, and that he wants no part of this "portal to the world."
Much later in the movie, his daughter Ariel blames him for putting the blame for all the strict rules on her brother (one of the teens who died in the car wreck), and ruining every one's memory of the good things in his life.
God's law versus public law
Ren tells his uncle that he though we lived in a country with a separation of church and state. (Don't get me started on that debate.) His uncle responds "What does church have to do with it?" Ren replies, "Why can't you buy beer on Sunday." His uncle says, "Sunday is God's day–buy your beer on beer's day (Saturday) It says it in the Bible. God says it, I believe, and that settles it."
What good is a law that changes when a behavior occurs?  If the laws can't change the behavior, than the law isn't effective.
And he said, "What comes out of a person is what defiles him. For from within, out of the heart of man, come evil thoughts, sexual immorality, theft, murder, adultery, coveting, wickedness, deceit, sensuality, envy, slander, pride, foolishness. Mark 7:20-22 (ESV)
It's important that Christians not do things for the sake of tradition, but that they know the reasons for/against certain behaviors as put forward in the Bible:
Now these Jews were more noble than those in Thessalonica; they received the word with all eagerness, examining the Scriptures daily to see if these things were so. Acts 17:11 (ESV)
Ren and his friend joke about the laws at one point in the movie. "Laws are meant to be challenged, they aren't set in stone." . . .    "The Ten Commandments were in stone."
I'm not a child!
Pastor tells his daughter Ariel to stay away from Ren because he's trouble, her response: Job 14:1 "Man who is born of a woman  is few of days and full of trouble." This is the first quote of Scripture in Footloose.
Ariel is in an abusive relationship because she's trying to prove she's not the child that her father treats her as.
In an argument between the two of them, she asks why she can't talk about her problems in church . . . aren't people supposed to talk about their problems in church?  "I'm so lost. I've been losing my mind. You don't see it. . . . I hate it when you treat me like a child"
An important part of parenting is knowing when to listen and not to provoke children by not being sensitive to their needs.
Fathers, do not provoke your children to anger, but bring them up in the discipline and instruction of the Lord. Ephesians 6:4 (ESV)

Fathers, do not provoke your children, lest they become discouraged. Colossians 3:21 (ESV)

Brothers, if anyone is caught in any transgression, you who are spiritual should restore him in a spirit of gentleness. Keep watch on yourself, lest you too be tempted. Bear one another's burdens, and so fulfill the law of Christ. Galatians 6:1-2 (ESV)
The pastor's wife tells him: "These laws were too much, too soon. Your obligation was to our daughter . . . you're a great preacher, but your one-on-one could use some work."
Rebellion versus Trustworthiness
Ariel gives Ren a Bible to help with his speech before the town council to oppose the ban on public dancing.
The pastor says the town is concerned about spiritual corruption . . . dancing can be destructive, and celebrating certain kinds of music can be destructive.
Ren's response is to say that the "job of a parent is to worry . . . the job of a teen is to live life in the short amount of time they have before they become adults." He then uses the following three Bible passage to support his position that dance is not unbiblical:
Psalm 149:3 Let them praise his name with dancing,
making melody to him with tambourine and lyre!

2 Samuel 6:14 And David danced before the LORD with all his might.

Ecclesiastes 3:4 . . . a time to weep, and a time to laugh;a time to mourn, and a time to dance;
Ren concludes that "dance is a celebration of love of life."
The town council upholds the ban, but after a one on one discussion with Ren, the pastor addresses his congregation: "I've insisted on taking responsibility for your lives . . . like a first time parent, I've made mistakes . . . Do I hold on or trust you to yourselves? Do I let go and hope? . . . if we don't start trusting our children, how can they prove themselves trustworthy."
Is dance mentioned positively in the Bible. Yes, as the three Scriptures above attest, a good many of the references to dance in the Bible are positive, but they are also all in reference to dancing before the Lord or expressing the joy of the Lord, etc. Unfortunately, the popular dances of our era and society do not fall into this category.
"Death is on its own clock"
Ren has experienced the long, agonizing death of his mother from leukemia. His hard work couldn't save his mother, and he is searching for a purpose. He has come up against something that he thinks hard work can change, and he wants to DO something or else he'll just disappear. This is his stated purpose for opposing the dance ban. He and the pastor have a discussion regarding death (because the pastor has lost his son tragically). Both express their sense of loss and not having a chance to say goodbye to their loved ones because, as Ren says, "Death is on its own clock."  This is a both a reminder that death is a product of our sin and also that we have limited time to live for God.
Then desire when it has conceived gives birth to sin, and sin when it is fully grown brings forth death. James 1:15 (ESV)

The sting of death is sin, and the power of sin is the law. 1 Corinthians 15:56 (ESV)

For the wages of sin is death, but the free gift of God is eternal life in Christ Jesus our Lord. Romans 6:23 (ESV)

Therefore, just as sin came into the world through one man, and death through sin, and so death spread to all men because all sinned—Romans 5:12 (ESV)
Share your feedback!
What did you think of Footloose? We would like to know, even if just your reactions to the trailer or the topics we shared in this episode. Or what general critical-thinking and entertainment thoughts or questions do you have? Would you like to suggest a movie or TV show for us to give a Christian movie review with critical thinking?
Please connect with us