Podcast Awards
Nominations have just opened for the Podcast Awards. Please nominate the Noodle.mx Network podcasts and your other favorite podcasts.
New email newsletter
We're relaunching our email newsletter to be more valuable. Sign up for free updates, movie thoughts, and critical-thinking tips.
What DVD movie should we review next?
Please vote on our Facebook page which movie you think we should review next. You'll have until Sunday, September 25. The Adjustment Bureau is currently the highest-voted DVD.
Spoiler-free review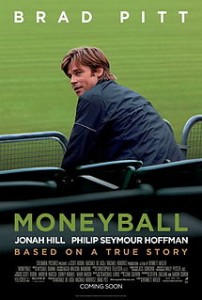 Moneyball (staring Brad Pitt) is about baseball, but it's not all "inside baseball" (bad pun). Moneyball is really about two people who tried to discover a new way to win inside the system.
The language was strong, with particular usage that stretches the modern bounds of the PG-13 rating.
I was disappointed that Moneyball was not funnier. But it was still enjoyable and not quite a boring film, even coming from me—not a sports fan.
If you're a baseball fan, then you'll probably enjoy this story, which was inspired by real events (recorded in the book Moneyball).
Moneyball was not a heavy-hitter against critical thinking, but it does open up conversations for grace, morals, and goals.
The rest of these podcast shownotes and the audio episode contain spoilers.
Morals vs. performance
After having lost their three best players, the Oakland Athletics are struggling to find replacements whom they can afford. During a meeting discussing these candidates, some of the players' moral behaviors are mentioned. Billy Beane responds that they're looking for performance, thus ignoring the morals (or lack thereof).
Do not be deceived: "Bad company corrupts good morals." Become sober-minded as you ought, and stop sinning; for some have no knowledge of God. I speak this to your shame. [1 Corinthians 15:33–34]
Yet we do see some edifying morality. One of the players comes to Billy Beane and says, "I'm going to be praying for you and your family." This creates an awkward moment at an attempt for comedy as Billy replies, "No problem." At one point, we even see a quick glimpse of this player apparently having an engaging conversation with another player while holding a Bible.
Gifts of grace
We hear early in Moneyball, "People are overlooked for a variety of reasons." This is a driving philosophy as Billy and his assistant general manager Pete try to find and strategically acquire those overlooked players. Some of these players were outcasts—old, injured, poorly skilled—but each had what the Oakland Athletics needed: the ability to get on base.
This reminds me of God's grace toward us as well as a history of His plan in Scripture. We see men and women who were the outcasts of their day, but were chosen by God to accomplish great things. Many of them ended up in the lineage of Jesus the Messiah.
But the LORD said to Samuel, "Do not look at his appearance or at the height of his stature, because I have rejected him; for God sees not as man sees, for man looks at the outward appearance, but the LORD looks at the heart." [1 Samuel 16:7]
Read all of Hebrews 11 (the "faith chapter") and then see how the writer wraps up.
Therefore, since we have so great a cloud of witnesses surrounding us, let us also lay aside every encumbrance and the sin which so easily entangles us, and let us run with endurance the race that is set before us, fixing our eyes on Jesus, the author and perfecter of faith, who for the joy set before Him endured the cross, despising the shame, and has sat down at the right hand of the throne of God. [Hebrews 12:1–2]
God has plans for us that are uniquely matched to our skills and abilities. If God wants us to do something beyond ourselves, then He equips us.
In it for the money or the record?
Although Billy and Pete called their method "moneyball," they were not after money. They were trying to do the best with the little money they had.
Billy was never in this for a record. He just wanted to win the last game—the game everyone remembers. This reminds me of Paul's words.
Do you not know that those who run in a race all run, but only one receives the prize? Run in such a way that you may win. Everyone who competes in the games exercises self-control in all things. They then do it to receive a perishable wreath, but we an imperishable. Therefore I run in such a way, as not without aim; I box in such a way, as not beating the air; but I discipline my body and make it my slave, so that, after I have preached to others, I myself will not be disqualified. [1 Corinthians 9:24–27]
Whatever you do, do your work heartily, as for the Lord rather than for men, knowing that from the Lord you will receive the reward of the inheritance. It is the Lord Christ whom you serve. [Colossians 3:24–25]
Other thoughts
Billy says to "adapt or die," which is a familiar phrase among evolutionary belief—"survival of the fittest."
While speaking about the scientific approach the Oakland Athletics were taking, science was said that it "might offer the solution to the curse of the bambino." The sentiment behind this is that science could fix all problems.
Share your feedback!
What did you think of Moneyball? Even if just your reactions to the trailer or the topics I shared in this episode. Or what general critical-thinking and entertainment thoughts or questions do you have? Would you like to suggest a movie or TV show for us to give a Christian movie review with critical thinking?
Please connect with us
If you enjoy Are You Just Watching?™, please subscribe to our other podcasts: