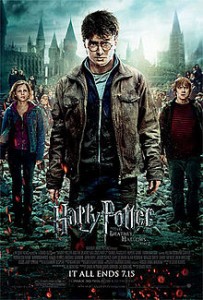 J.K. Rowling's series has at last come to a close and the latest Harry Potter movie has been in theaters for a while, but there's always time for some critical thinking!
Spoiler-free review
I have not read the Harry Potter series, but I have watched and mostly enjoyed the movies. Harry Potter and the Deathly Hallows, Part 2, had more action than Part 1, and it was fun and sad to see the conclusion to the long saga.
But one battle this final Harry Potter movie cannot resolve is the appropriateness of the series for children and its basis of witchcraft.
There is violence through, a little minor gore, and plenty of dark evil. For critical thinkers, Harry Potter and the Deathly Hallows, Part 2, raises questions on good versus evil, sacrifice, heaven, the soul, and sorcery.
For people able to distinguish fictional fantasy from real life, Harry Potter can be entertaining. But it's up to each family to decide whether they want their kids running around casting spells and pretending to be Harry Potter or Voldemort.
The rest of this review and the podcast episode contain spoilers.
Good versus evil
From the first mention of "Lord Voldemort," Harry Potter has been a centerpiece in a grand battle of good versus evil. Harry Potter and his friends are good merely because of their behavior. Just the same, Voldemort and his minions are evil because of their behavior.
"Not everyone who says to Me, 'Lord, Lord,' will enter the kingdom of heaven, but he who does the will of My Father who is in heaven will enter. Many will say to Me on that day, 'Lord, Lord, did we not prophesy in Your name, and in Your name cast out demons, and in Your name perform many miracles?' And then I will declare to them, 'I never knew you; DEPART FROM ME, YOU WHO PRACTICE LAWLESSNESS.'" [Matthew 7:21–23, NASB]
It is not what we do that makes us good, but it is our position relative to God: we're either in Him through Christ, or enemies to God through our rebellion against His authority.
From the first few chapters of Scripture, we knew that God would ultimately be victorious.
"And I will put enmity Between you and the woman, And between your seed and her seed; He shall bruise you on the head, And you shall bruise him on the heel." [Genesis 3:15, NASB]
Magic, obviously
Obviously, Harry Potter is full of magic with witches and wizards, spells and potions, and even soul-splitting and life-resurrection.
While some movies, like Captain America: The First Avenger, explain science as "magic," Harry Potter is all magic.
The Bible is clear that there are spiritual forces actively working and battling around us.
For our struggle is not against flesh and blood, but against the rulers, against the powers, against the world forces of this darkness, against the spiritual forces of wickedness in the heavenly places. [Ephesians 6:12, NASB]
But at the same time, also condemns wrongly engaging in the spiritual world, as King Saul had consulted a medium (1 Samuel 28).
Instead, Scripture tells us to join the spiritual war with the right weapons.
For though we walk in the flesh, we do not war according to the flesh, for the weapons of our warfare are not of the flesh, but divinely powerful for the destruction of fortresses. We are destroying speculations and every lofty thing raised up against the knowledge of God, and we are taking every thought captive to the obedience of Christ. [2 Corinthians 10:3–5, NASB]
Finally, be strong in the Lord and in the strength of His might. Put on the full armor of God, so that you will be able to stand firm against the schemes of the devil. For our struggle is not against flesh and blood, but against the rulers, against the powers, against the world forces of this darkness, against the spiritual forces of wickedness in the heavenly places. Therefore, take up the full armor of God, so that you will be able to resist in the evil day, and having done everything, to stand firm. Stand firm therefore, HAVING GIRDED YOUR LOINS WITH TRUTH, and HAVING PUT ON THE BREASTPLATE OF RIGHTEOUSNESS, and having shod YOUR FEET WITH THE PREPARATION OF THE GOSPEL OF PEACE; in addition to all, taking up the shield of faith with which you will be able to extinguish all the flaming arrows of the evil one. And take THE HELMET OF SALVATION, and the sword of the Spirit, which is the word of God.

With all prayer and petition pray at all times in the Spirit, and with this in view, be on the alert with all perseverance and petition for all the saints. [Ephesians 6:10-18, NASB]
Christ-like sacrifice?
Regardless of how you feel about Harry Potter, he is a picture, although flawed, of Christ and His sacrifice for us.
Harry Potter lived as a constant enemy to Voldemort. Voldemort is a snake-talker and Satan was called a serpent.
Throughout the Harry Potter saga, Harry was called "the chosen one."
Harry Potter gives his life over to Voldemort in order to save is friends and as part of the larger plan.
But many things don't line up: Harry had a part of Voldemort, but there is no darkness in Jesus Christ (1 John 1:5); Harry Potter is also a snake-talker, but Christ will crush the head of the great serpent; Harry Potter gave up being the most-powerful wizard, but Jesus Christ will not give up His eternal kingdom and will ultimately reign supreme.
An awkward heaven
Immediately after Harry Potter's death, we see a white-laden train-station depiction of a "heaven." There is an ugly part of Voldemort there and Dumbledore tells Harry, "Do not pity the dead. Pity the living and all those who live without love."
This should really be that we should pity those who live and die without God.
The impression we get from Harry Potter is that good people go to heaven, and bad people die—but without any kind of judgment and punishment?
And inasmuch as it is appointed for men to die once and after this comes judgment. [Hebrews 9:27, NASB]
For to me, to live is Christ and to die is gain. [Philippians 1:21, NASB]
Resurrection
Crucial to this massive plan is the Resurrection Stone, which Harry has had all along since he grabbed the Snitch. "I open at the end."
Upon opening, Harry's family is momentarily brought to life in a way that only Harry can see. But he drops the stone, so how was he resurrected?
After the pseudo-heaven scene, Harry rejoins the living to play dead before coming back and ultimately defeating Voldemort.
Jesus Christ rose from the dead and was immediately the victor over the grave. There was no playing dead, but a revelation of His living to the disciples and hundreds of others (1 Corinthians 15:3-7).
Faith in Harry Potter or Voldemort?
After bringing Harry Potter's playing-dead body back to Hogwarts, Voldemort still tries to convince everyone to join him. "Put your faith in me. Harry Potter is dead."
Certainly, Satan must have felt this way when Jesus had died. But in a real sense, Jesus could more appropriately say similar words as Voldemort's because all our false gods are dead and our righteousness is like filthy rags.
For all of us have become like one who is unclean,
And all our righteous deeds are like a filthy garment;
And all of us wither like a leaf,
And our iniquities, like the wind, take us away. [Isaiah 64:6, NASB]
Other thoughts
Share your feedback!
What did you think of Harry Potter and the Deathly Hallows, Part 2? What about the entire Harry Potter series? Or what general critical-thinking and entertainment thoughts or questions do you have? Would you like to suggest a movie or TV show for us to give a Christian movie review with critical thinking?
Please connect with us
If you enjoy Are You Just Watching?™, please subscribe to our other podcasts:
BONUS: "How Harry Potter Should Have Ended"
A tiny bit of foul language.