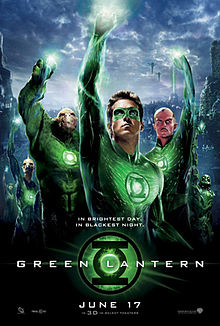 We're back and Daniel J. Lewis reviews some critical thinking basics and discusses Green Lantern.
Spoiler-free review
Although many critics are giving Green Lantern poor reviews, I felt is was an enjoyable movie.
No, there weren't any major plot twists and things flowed as you would expect them. But the characters seemed more realistic in their personal reactions than a typical "superhero" movie.
Even though Green Lantern was based on the DC Comics, this is not a movie for kids. It involves nightmare-inducing enemies and plenty of violence. However, there was relatively little foul language and but plenty of innuendo in the beginning, and even a "post-bedroom" scene.
If you want to watch a "green" movie, Green Lantern is certainly more entertaining than its annoying little brother The Green Hornet.
Yes, Green Lantern has a great soundtrack
.
Read the PluggedIn review of Green Lantern to determine the appropriateness for your own family.
The following contains spoilers.
Immortals
A group of aliens call the Immortals were introduced right away as being from "billions of years ago."
They're said to be "responsible for all we see and do."
When the Immortals make a major decision, they must "weigh it against billions of years and the fate of the universe."
… it is appointed for men to die once and after this comes judgment …. (Hebrews 9:27)
An average hero
Hal Jordan (played by Ryan Reynolds) is a typical worldly man, guilty of fornication with "anyone who will get in the plane."
Aliens and space
There are millions of other species represented in The Corps, but when Abin Sur must flee to the "nearest inhabited planet" (which ends up being Earth), we see the Milky Way galaxy from the outside.
When Abin Sur's corpse is found and examined by scientists, they say call it, "humanoid … convergent evolution or common ancestor."
Although the Bible does not explicitly address extraterrestrial life, it would be inconsistent with the logic and narrative of Scripture.
For thus says the LORD, who created the heavens (He is the God who formed the earth and made it, He established it and did not create it a waste place, but formed it to be inhabited), "I am the LORD, and there is none else. (Isaiah 45:18, NASB)
The ring
When Abin Sur is dying at the beginning of Green Lantern, he speaks to his ring to "choose well." That the ring somehow conciously chooses people (of any alien species) is raised many times.
It's also said that "the ring never makes a mistake."
Will and fear
Early on, we see that Parallax harnesses the extreme power of fear. "There's a word for beating fear: courage."
"Power comes from the will of all beings in the universe. Will is the strongest."
This battle of will against fear led me to wonder if they'd follow into a cheesey path of saying "but love is more poweful than them both and only humans are capable of love." Alas, there was no "Power of Love."
But the Bible does tell us that love is greater than fear:
There is no fear in love; but perfect love casts out fear, because fear involves punishment, and the one who fears is not perfected in love. (1 John 4:18, NASB)
Parallax is a good portrayal of what Satan must be like. Inducing and then feeding on our fears, the bringer of death. But Satan cannot destroy the soul and thus not to be feared.
"Do not fear those who kill the body but are unable to kill the soul; but rather fear Him who is able to destroy both soul and body in hell." (Matthew 10:28, NASB)
The Corps' mission is to "overcome fear and defeat evil wherever it may lie."
I find it interesting how the Green Lantern Oath has changed from:
…and I shall shed my light over dark evil.For the dark things cannot stand the light,The light of the Green Lantern!
to Hal Jordan's oath:
In brightest day, in blackest night,
No evil shall escape my sight
Let those who worship evil's might,
Beware my power… Green Lantern's light!
… men loved the darkness rather than the Light, for their deeds were evil. (John 3:19b, NASB)
For our struggle is not against flesh and blood, but against the rulers, against the powers, against the world forces of this darkness, against the spiritual forces of wickedness in the heavenly places. (Ephesians 6:12, NASB)
For though we walk in the flesh, we do not war according to the flesh, for the weapons of our warfare are not of the flesh, but [a]divinely powerful for the destruction of fortresses. We are destroying speculations and every lofty thing raised up against the knowledge of God, and we are taking every thought captive to the obedience of Christ, and we are ready to punish all disobedience, whenever your obedience is complete. (2 Corinthians 10:3-6, NASB)
"Will turns thoughts into reality. Only limit is your imagination." This actually has some truth, but just not in the sense we see illustrated in Green Lantern.
"'Not by might nor by power, but by My Spirit,' says the LORD of hosts." (Zechariah 4:6, NASB)
Humans' place
Throughout Green Lantern, humans are looked down upon. We're accused of thinking we're "the center of the universe" and are called "young … have a lot to learn, but worth saving." God certainly felt this same way!
But God demonstrates His own love toward us, in that while we were yet sinners, Christ died for us. (Romans 5:8, NASB)
When I consider Your heavens, the work of Your fingers,
The moon and the stars, which You have ordained;
What is man that You take thought of him,
And the son of man that You care for him?
Yet You have made him a little lower than God,
And You crown him with glory and majesty!
You make him to rule over the works of Your hands;
You have put all things under his feet,
All sheep and oxen,
And also the beasts of the field,
The birds of the heavens and the fish of the sea,
Whatever passes through the paths of the seas.
O LORD, our Lord,
How majestic is Your name in all the earth! (Psalm 8:3–9, NASB)
Share your feedback!
What did you think of the movie? Or what general critical-thinking and entertainment thoughts or questions do you have?
Please connect with us
If you enjoy Are You Just Watching?™, please subscribe to our other podcasts: