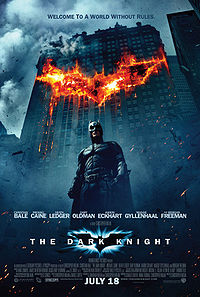 Welcome back! Though it hasn't been a long break for our subscribers, it has been for us. Our first episode was recorded in January. But Daniel now has his black belt and we are ready to kick it into high gear!
Review of critical thinking
Just a quick review of what critical thinking means. These are the methods to apply to everything, even your entertainment.
Know Scripture
Question everything
Evaluate the core
Discern truth
Our movie pick: Batman: The Dark Knight
While attempting to introduce the movie, we take a brief moment to plead for donations. Daniel has an expensive microphone and Eve is using a cheap one. Your help in upgrading our equipment would be greatly appreciated. Please consider clicking the donate button to support our podcast.
Eve summarizes Batman Begins as an introduction to Batman in these movies and then Daniel summarizes The Dark Knight.
Please check out PluggedIn Online's Christian review, and read the IMDB.com's full synopsis of The Dark Knight .
What did we think of the movie?
We both really liked it, and we each explain briefly why we like it.
We explain our score card system and give you our scores. Our online explanation of this scorecard will appear in the feed soon.
Eve's score: 8 (Open Eye)
Daniel's score: 9 (Open Eye)
Critical thinking discussion
Vigilante justice
Is what Batman doing in stopping criminals the right thing? He's usurping the rightful authority of the government. But he feels he's supporting the rightful authority. If vigilante action was necessary because the government was not doing its job, does that justify it?
Romans 12:19
Never take your own revenge, beloved, but leave room for the wrath of God, for it is written, "VENGEANCE IS MINE, I WILL REPAY,"; says the Lord.
There is a lack of accountability when an individual takes all that responsibility and power on himself. Batman is not accountable to anyone, which is the major problem with what he does.
The condition of man
We discuss how the movie highlights the contrasts in the condition of man's heart.
Jeremiah 17:9
The heart is more deceitful than all else And is desperately sick; Who can understand it?
It appears that the movie wants to show that people are good at their core and that they have to be pushed to make bad decisions. In the social experiment of the ferries, we question what was a good decision and could there have been selfish motivations for "good" decisions.
How we define the condition or nature of man is a major worldview question. So what else does the Bible say about man's nature?
Mark 7:20–23
And He was saying, "That which proceeds out of the man, that is what defiles the man. For from within, out of the heart of men, proceed the evil thoughts, fornications, thefts, murders, adulteries, deeds of coveting and wickedness, as well as deceit, sensuality, envy, slander, pride and foolishness. All these evil things proceed from within and defile the man."
Genesis 6:5
Then the LORD saw that the wickedness of man was great on the earth, and that every intent of the thoughts of his heart was only evil continually.
Genesis 8:21b
… for the intent of man's heart is evil from his youth;
Isaiah 64:6
For all of us have become like one who is unclean,
And all our righteous deeds are like a filthy garment;
And all of us wither like a leaf,
And our iniquities, like the wind, take us away.
Romans 3:22–23
even the righteousness of God through faith in Jesus Christ for all those who believe; for there is no distinction; for all have sinned and fall short of the glory of God,
Isaiah 53:6
All of us like sheep have gone astray,
Each of us has turned to his own way;
People are ready to believe in good, but can they discern what is truly good? God is the only true definition of good
Mark 10:18
And Jesus said to him, "Why do you call me good? No one is good except God alone.
Wrap up
We wrap up this episode with a great deal left to say, so we will continue the discussion on The Dark Knight in the next episode.
We want to connect with you, so please comment on this episode either here, send us a message, or call our voicemail line (903) 231-2221. Please remember that you can rate, review, and subscribe to Are You Just Watching in iTunes, with your Zune, or grab the RSS feed to read and listen to with your favorite program. If that's all too geeky or inconvenient, then you can subscribe by email through the option on our site. You can also follow Are You Just Watching, Daniel, and Eve on Twitter,
Are You Just Watching?™ is produced and sponsored by D.Joseph Design. The opening vocal talent is thanks to Mariah. Our theme song is used courtesy of Answers in Genesis, from their exciting vacation Bible school curriculum, Operation Space.